Jump suit believer!
Added May 11, 2015
by MojoHollz
My Home, Oklahom...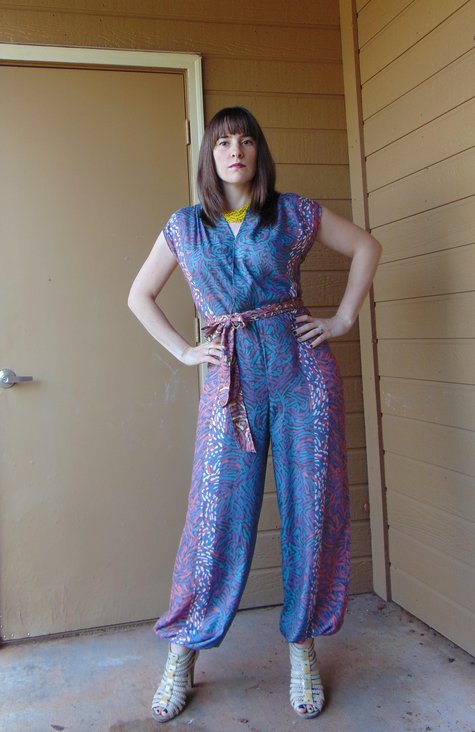 ShareThis
Description
I have always had misgivings about jumpsuits. Sure they look great on other people, youthful, playful, flirty, comfy, fashionable, but me? Wear a jumpsuit? I would look stupid! I even tried a few on in stores and no, they did indeed look stupid. I believe now it had more to do with the style of the jumpsuit. (You know sometimes things end up on the clearance rack for good reason.) I got this fabric from a a thrift store, 4 yards for $4. At first it was one of those, "hmm, odd, interesting and eww" kinds of fabrics but the more I started at it the more I loved it. It kind of had a vintage 70's vibe while not being dated. And the price? Who could argue, so I bought it, it sat in my stash for the perfect project. And then it hit me, jumpsuit, why not use that 70's vibe and do a jumpsuit. So here it is, my journey to jumpsuit believing! I used McCalls 6083. I made minor changes, including adding elastic cuffs to the pant legs, dividing the back blouse piece into 2 to facilitate the pattern matching and a small snap to the neck line to keep my underthings truly under. I love this patterns and will definitely make it again, though I will probably lengthen the blouse and inch.
Perhaps I might even embrace those hippi headbands, that would look really cute styled with this jumpsuit! . . . . naaahhh . . .
One baby fashion statement step at a time :P
Hope you love it as much as I do!
p.s. It really is fun, flirty, fashionable AND comfy to wear!
Material Notes
Unsure since it was a thrift store find but I believe it is a rayon or faux rayon
1 small snap
2ish yards of 3/4" elastic
Interfacing
Difficulty
Novice
Categories
1 Reply

1 Reply

1 Reply

1 Reply

1 Reply