Jonny
Added Jan 20, 2007
By burdastyle
New York, New Yo...

Step 10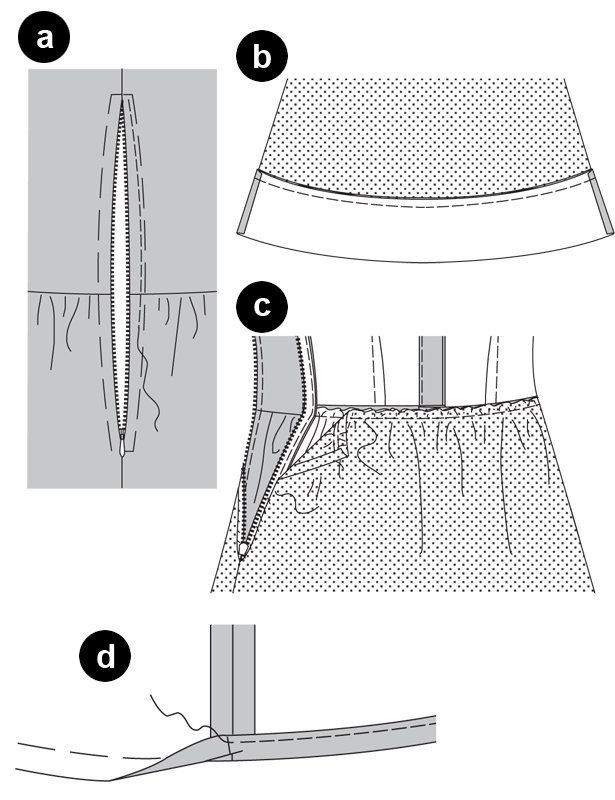 Zip
Turn seam allowances on slit edges to inside again.
Baste zipper under slit edges so that zipper teeth are covered. Sew zipper in place by machine, using the zipper foot. (a).
Lining: Stitch side seams as described skirt, matching seam numbers (9) and leaving slit open as mirror
image to skirt.
Hem Band
Stitch side seams on hem band, matching seam numbers (10). Finish edges of seam allowances and
press seams open.
Stitch hem band to lower edge of lining, with right side of hem band facing wrong side of lining. Seam numbers (11) must match and side seams must match. Finish edges of seam allowances together and press towards lining. Finish upper edge of lining and gather. (b)
Pull lining into skirt, wrong sides facing. Pin upper edge of lining to skirt attachment seam, matching side seams. Stitch lining in place, as close to zipper as possible. Sew lining edges to zipper tapes by hand. ©
Seam
Trim seam allowances at the skirt and seam band to 0.7 cm, de-baste, fold over, iron and stitch. (d)
0 Comments on Step 10
Patterns for this Project
Produced by BurdaStyle