Jessie Matthews dress
Added Jan 2, 2012
London, United K...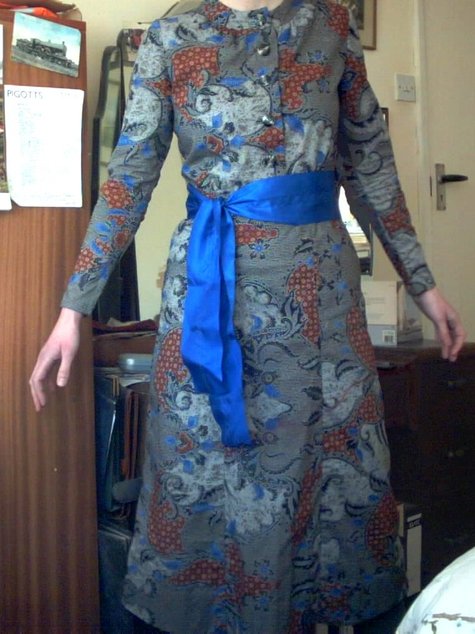 ShareThis
Description
Look! It has buttons! And sleeves!
(And the title? Well, from the moment I saw the pattern cover, that wide-eyed, round-cheeked girl with her tip-tilted nose reminded me of 1930s star Jessie Matthews – seen here "cute as a button" singing in one of her earliest film hits, The Good Companions.)
This is a genuine vintage dress design from the 1930s, courtesy of Lauren from Wearing History in America – because she was having a sale on her website and this particular pattern was missing some of the bolero pieces, it was being offered at a very cheap price. As I didn't like the bolero anyway and the size seemed to be exactly right, while the style was precisely what I was looking for (see above: sleeves, button-up bodice, high waist, skirt below the knee – everything I normally wear in a dress, and everything that seems so hard to come in charity shops these days)… I fell.
In fact I had to enlarge the skirt at the hips, since the dress was sized for 32-27-35 in place of the modern 32-26-36: Thirties fashions were evidently more tubular! I didn't bother taking it in at the waist to correspond, as it was designed to be worn belted with a sash in any case.
After tracing off all the pieces and altering the skirt (I actually discovered later that I'd added my extra width to the mid-back seams instead of the side seams, owing to a trifling miscalculation as to which side of piece H was which…) I made up a test version out of a blue-green polyester sheet which looked pretty good. At this point I started working on the fit with a friend who used to be a professional seamstress, who pointed out that my shoulders were uneven, the waist seam was not horizontal, and that the collar would need completely redesigning to lower the neck – did I want to do a proper 'couture' job and re-trace all the pattern pieces sans seam allowance in order to make the alterations? Of course I said yes….
This wasn't entirely a case of perfectionism, to be honest: I'd already found it very difficult to work from pattern pieces which required you to trace a fixed and accurate distance in from their edges in order to obtain your actual seam line. Working from 'unprinted' vintage patterns with their notches and perforations didn't worry me at all, given that I always have to thread-mark everything anyway; relying on vital stitching lines that depended entirely on my own accuracy of cutting out and then tacking half an inch from the edge struck me as just asking for trouble.
So I retraced all eleven pattern pieces and made a second toile out of a white cotton sheet… then tried redesigning the collar….
After weeks and weeks of work I did think we'd got it right. However, once I'd cut out the final version – at which point I simply didn't have enough spare fabric scraps to re-cut – it became obvious that there were still major issues with the area where the ends were supposed to overlap. I bodged it up as best I could, and shifted the positioning of the collar button twice: if I do this pattern again I shall obviously have to try for yet another generation of designed collar pieces. :-(
The other significant change I made was to extend the darts at the bodice back all the way up to the point, instead of leaving them open at the halfway point, producing a fully fitted shape. This was originally a misinterpretation of the pattern (I'd never encountered half darts before), but I liked the effect and decided to keep it. I thought it might be nice to try the short-sleeved variant (as illustrated on the pattern cover) in heavy linen as a summer dress with the loose back as originally intended. The original owner of the pattern had cut along the short sleeve markings with a wavy edge to produce a novelty design, and it would be fun to try to recreate this!
---
About half the sewing on this project was done by machine, as opposed to previous garments which have been made entirely by hand; this was because I acquired a hand-cranked sewing machine (an Alfa 301, more common in Europe than here) and used it to save time on the endless long skirt seams. (One advantage of using a 1930s pattern was that the cutting layout was designed to cater for 36" widths of fabric like the one I had: however, the economy of fabric use was achieved by splitting the skirt into six separate panels, all of which required sewing and finishing!)
Being used to hand sewing, however, I found it easier to do most of the fine work with my own needle as usual. I wanted the dress to be fully washable, so in the absence of a serger or zigzag stitch every single raw edge in the garment had to be entirely enclosed. That meant mainly French seams, save for the side seam incorporating the zipper, which had to be bound with bias tape, and the matching seam on the other side. In accordance with the pattern directions I also finished the cuff edges with self bias strips and a bias facing where the snap fasteners are sewn on at the wrist, and inserted an enclosed zipper placket with an additional underlap to cover the zipper tapes on the inside. Both these operations had to be done twice after I misinterpreted the instructions and tried to be too clever the first time round, but I am very pleased with the result: now that's a really invisible zip!
The bound buttonholes and bodice facings were also sewn in entirely by hand, although I consciously didn't even try to stitch down an invisible hem around the bottom of the skirt, simply taking small even hemming stitches and assuming they wouldn't show amid the strong fabric pattern (they don't). With a three-and-a-half-inch deep hem on a flared skirt there was a fair amount of gathering involved, and I simply didn't think an invisible hem would be strong enough if and when I caught my foot in it – besides at this point it was already 1.30am on the morning of the day I wanted to wear the dress….
I borrowed an Indian silk stole to use as a sash for the party, which draped more naturally than the stiff ribbon sash shown in these photos, but this one works quite well and isn't nearly so irretrievably expensive and delicate.
Material Notes
A Paisley printed cotton or polycotton length of fabric from the charity shop – just barely enough for this dress. One reel of green-grey thread ditto (I had practically none left after making the sash!) Five vintage buttons from my button box, plus an elderly eight-inch zipper from my brother's collection of oddments. Three metres of narrow black bias binding for the bound side seams (other parts were finished using self bias strips from the fabric remnants). Two sixty-four-inch lengths of broad blue ribbon (again from the charity shop) stitched together to make an improvised sash.
Difficulty
Advanced
Categories
Credits
Simplicity