Jennifer is #1 on My Ish List
Added Apr 17, 2011
by tanu
Portland, Oregon...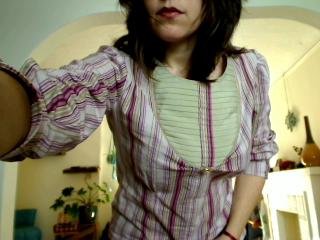 ShareThis
Description
First off please excuse my crappy photographic skills. I am currently operating with a totally behind the times Web cam and needed a few minutes to figure out the settings. Even then the photos are all super saturated and overly bright. Yay? At least my skin looks flawless.
I should be thankful that this is the adorable shirt that lured me to this community in the first place. Being a mom and a business owner meant it took me nearly a year from buying the pattern to finally finishing this bad girl. You know how it is…it's always hard to get psyched for the cutting – why does that part have to come FIRST?!
Part of me feels like I really should offer no warning or critique because – free pattern! But another part of me feels that anyone taking on this shirt should be forewarned. I did have to pay $13 for printing fees, after all.
I found the pattern to be in need of some pretty serious alterations for my body type – many of which I lazily skipped much to my chagrin in the end. If you are making this, take your applicable measurements and make the alterations. Don't be lazy like me.
There were several steps in the instructions that almost made my brain explode. I wish there were fewer instructions about the cutting and altering and more clarity on the last few steps, or even just better or more applicable photos to go along with the instructions. A couple of examples of breathtakingly obtuse instructions: the bias placket on the sleeves (I showed this to a few friends who almost broke up with me for subjecting them to the instructions) and the cuffs (why was the cuff fabric and the cuff facing sized so differently and where should the cuff pleats go? OMG WTF ARGGHGHGH!!!!!!!!). There were a few moments where tiny little things like this kept me up at night. Usually if I just stepped back a minute, looked at the finished product and totally ignored the details in the instructions I did better.
Still the fabric I was working with was old and pretty fussy so any attempt at seam ripping literally meant I would end up tearing a gash through the fabric. This happened three times (damn you, bias placket!). I winged it and all was well in the end. Those profanity filled moments were, thankfully, after my daughter was sleeping.
I used my serger to do the pintucking on the silk contrast fabric I used for the insert. I thought I was super clever when I was doing the pintucking on the serger because, hoo doggy, was that ever fast. Lo, even though I was using a lightweight thread, the serged pintucks were too heavy at the bottom of the insert and made the shirt pooch once attached at the neckline. That's why I ended up adding those extra, odd pleats that my mother complained draw far too much attention to my breasts. To that I replied, "What breasts?"
I love the sleeves on this shirt and now that I have tried this pattern with some "throwaway" material might give it another try at some point (though if I were honest with myself I know chances are not good) with a few more alterations to improve the fit.
Material Notes
I used some kind of a cotton poly blend that was very old and stiff with silk for the insert. As I mentioned above, my habitual serger use problem didn't do me any favors on this project. Machine sew the pintucks for less pooching and you will be a much happier camper. If I had all the money in the world I would have picked a very lightweight fabric similar to the one pictured in the original pattern. Enjoy!
Difficulty
Intermediate
Categories
This project is based on
Make it