Jason
Added Nov 2, 2009
By burdastyle
New York, New Yo...

Step 8 SHOULDER SEAMS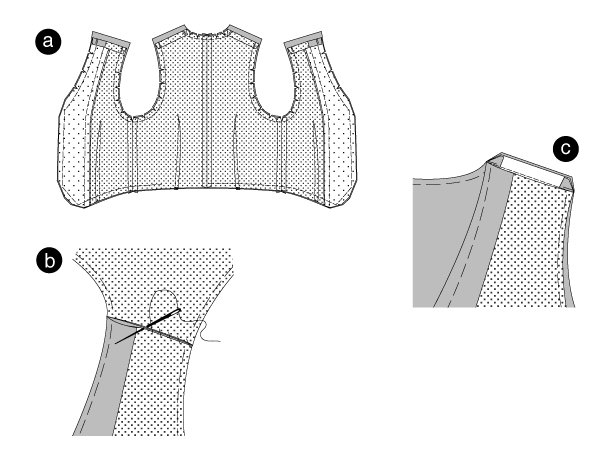 DOUBLE THE VEST WITH LINING
8 Position the lined plackets on the vest (seam number 3), right sides facing. The side seams meet. Stitch all edges, except the shoulder edges. Leave an opening at the back hemline so that the vest can be turned later on. Trim allowances, snip in the curves and cut the corners at a slant. Turn vest and pin the opening. (a)
SHOULDER SEAMS
9 Position front and back piece together, right sides facing. Stitch shoulder seams (seam number 4), at the same time ease the back shoulder edges and do not enclose the lining. Cut the allowance corners at a slant. Push the allowances inside and press apart. (b)
10 Sew the shoulder edges together by hand. Pin the vest edges, press and stitch, including the opening at the back hemline. ©
Work BUTTON HOLES into the left front piece. The space between the center front and the button hole should be 2mm. Sew BUTTONS onto the center front of the right front piece.
0 Comments on Step 8
Patterns for this Project
Produced by BurdaStyle