Itty bitty suedy jacket!
Added Oct 26, 2010
Adelaide, Australia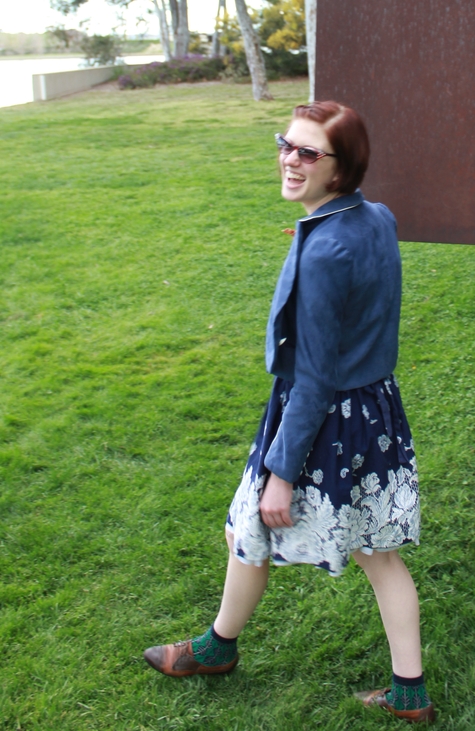 ShareThis
Description
This was my end of semester one project for my clothing production class. We just had to make a jacket….reallllly well. Like aiming for perfection, and putting all of our newly acquired technical skills to work!! I ended up using Vogue 2300, a pattern which the school actually had, because i couldn't find any in the fabric shops i liked. I
ts made out of Furnishing Ultra suede!! oh-la-la! 100% polyester! It actually feels amazing! no joke. Originally i wanted to use white suede with black piping. But im far to unco for that! So blue it was, and this jacket now reminds me of those girls from Harry Potter who visit the school in blue capes and amazing hats. Alongside the Practical we had to have a bunch of paperwork as well. Tests of all kinds with the fabric, trade sketches, marker lay outs, bundles tickets. The best part was making our own swing ticket and Care label. For the swing ticket we had to calculate costing according to our hours and fabric cost…etc. so hahaha at my $649.95 Jacket!
Anywho the only issues i really encountered was the piping at the intersection of the collar. Turns out you have to leave it floating and cant actually stitch it down, otherwise it twists all funny like. Wish i had used slightly thicker shoulder pads, but that's about it! Oh and if anyone knows where i can find a web tutorial for attaching the lining to the facing corner of the jacket, let me know!!
Anywho, happy browsing.
P.s. How fabulous is the models hair?!?!
Material Notes
100% ultra Suede, Pretty button, lining, piping, whisper-weft interfacing, shoulderpads, lotsa time and effort!!!
Difficulty
Advanced
Categories