interview outfit
Added Jun 11, 2010
by chadrific
Atlanta, Georgia...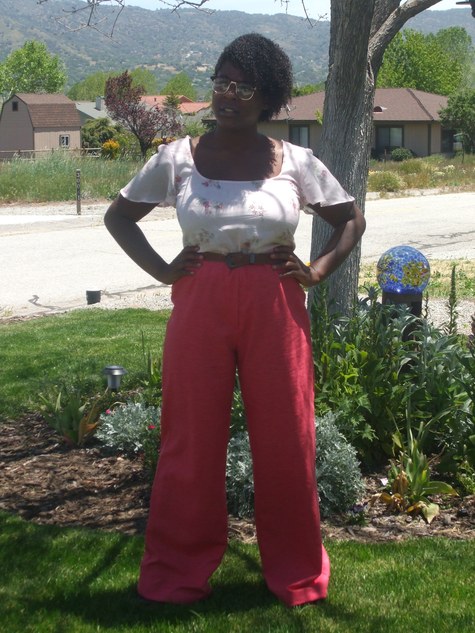 ShareThis
Description
using a vintage pants pattern, I made these wide leg trousers. I didn't have time to add belt loops (I really wish I had added them). The shirt was supposed to be a surplus shirt, but it seems like when I don't make my own shirt patterns they never fit my boobs correctly. (I was in a rush when I made these) so I put the surplus in the back. Since it was for an interview the V couldn't be lower so basically I didn't make the shirt I wanted to make haha. I will be redoing the shirt at least.
The pants were fun, the waist is a little too big, so I am going to adjust that too. Biggest problem, the dye from the fabric. I don't normally wash my fabric first when making things for myself because I know how I launder things (pretty much no dryer). Yet after turning my hands, clothes, and sewing machine (later on my carseat) pink…I knew I couldn't turn back and wash the pants until I wore it once (I was afraid all the dye would run)…it's probably turning my dirty laundry pink as I type…oy vey.
Other than that! I do enjoy them…they're nice and make my legs look long long (I'm 5'3)…and don't mind my face in the pics, my brother took the pictures while I was talking!
Difficulty
Intermediate
Categories