Intergalactic Flapper to Whovian
Added Dec 16, 2012
by pambox
Sydney, Australia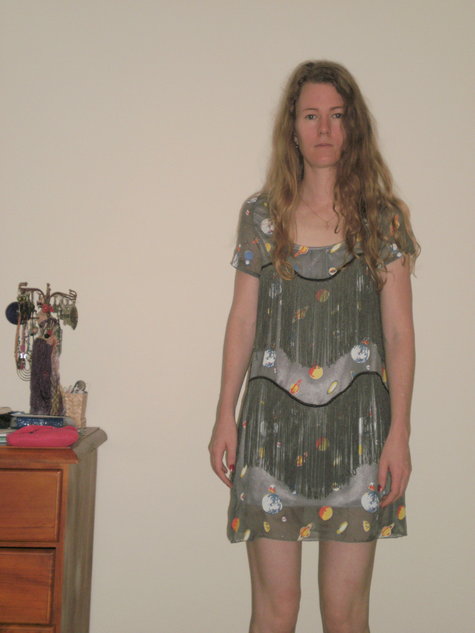 ShareThis
Description
This is a refashion. The original dress (bottom corner of main photo and last photo) was bought for a Vinnies formal 30th (go to a charity shop, find something ridiculous, buy it and wear it). I have to admit this dress wasn't the most hideous I saw, that was a drop waist knitted 80s monstrosity, but this one was very weird. A shapeless sack that was so short that you'd be convicted of indecent exposure as soon as you raised your arms if you weren't wearing anything underneath and with two lines of long fringing – hence it getting the nickname intergalactic flapper. But the fabric was kitsch and amazing, so it had potential to be rescued.
So the fringing had to go, and I had to make it not illegally short and not shapeless. So I decided to put in a stretch waistband. The orange ribbing was a remnant, so it was cheap. To redo the dress, I had to cut it in half and then sew in the waistband section. Unfortunately the three fabrics – lining, planet fabric, and waistband – were all different sizes and levels of stretchiness so it was a bit awkward and one section did need resewing, but it wasn't too bad.
I wore this to the Doctor Who Symphony (hence the second half of name) but stupidly didn't take any photos of it there, but at least I have a sonic screwdriver. And it matches my dress!
Photos by Ezzles
Difficulty
Intermediate
Categories