I START MY NEW YEAR WITH A BLUE BLAZER!
Added Jan 8, 2016
by Mirei71
***, Switzerland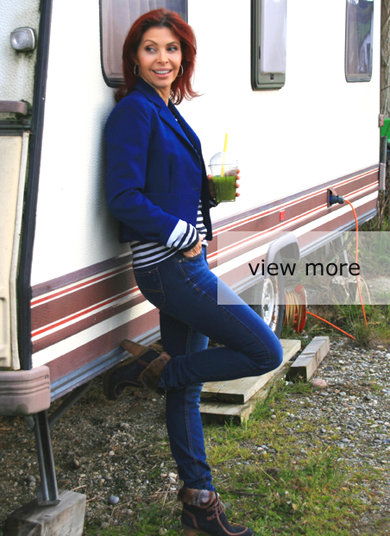 ShareThis
Description
To do the first post of this year with a healthy green smoothie in my hand seems a little bit of a cliche. But let's be honest – although we all know, that resolutions we take for the coming year have about the same survival chance as orchids planted into snow, we still do it year after year. Each January we decide what we want to change and at the latest in February we realize that it has not worked out the way we planned…
The classics are: losing weight, a healthier diet, excercise more… all those things make the business attached to them boom in these months. I used to be an aerobic teacher and the sales of yearly memberships went skyrocketing and the aerobic rooms were packed with people until about end of Feb. A phenomenon. But nevertheless, I am a little fan of resolutions because they make us think about the actual situation we are in and they motivate us to change something. What needs to be different? What in my life makes me unhappy? What do I want to change? The simple fact that this brainstroming is starting once more makes this almost-tradition a good thing. My resolutions this year? To name just a few: eat healthier and greener (very original I know), to have more time and leisure for the things I love (I'll probably figure out how this is gonna work by December :-)), to graduate and get my seamstress diploma (feasible), to quit using plastic bags (absolutely feasible!). And then there is another project I have as a goal this year but I am not allowed to talk about it yet, but it will soon be on this blog! So stay tuned :-)
The blue blazer: I got the pattern from an older burdastyle magazine. I have lined it with a bed sheet I owned in a very light gray. The material is almost like silk but not so slippery, which makes a lining for blazer just perfect! The pattern actually is for short people but with some adaptions I just wanted to create a garment which can be combined with longer tops that show underneath. A good combination is also with different scarfs and hats. I love this style! The colour goes with jeans and black but also for a braver style for example with a 5-pocket-trouser in a neonpeach or of cours in white to create the maritim look in summer. In fact I am really looking forward to summer this year!! The shooting took place on a very cold day. Freezing temperatures and I had to put on my warm winter coat between takes! The fotographer was once more my lovely daughter. She is becoming a real pro! :-) Let me know what you think about my latest creation. I wish you all a fantastic start into the New Year. See you in my next post!! Bye!
Material Notes
cotton
Difficulty
Expert
Categories