I am not a kilt - tartan skirt
Added Jan 26, 2013
by laracrj
Cardiff, United ...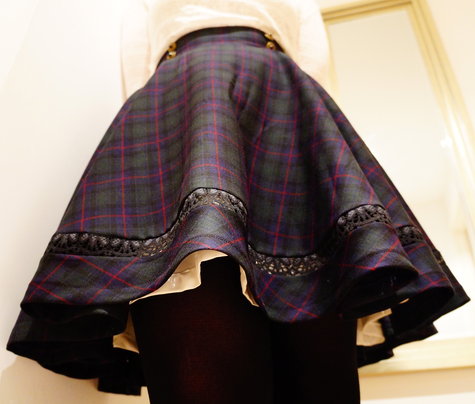 ShareThis
Description
A lovey tartan circle skirt that I spent time and patience putting together. Here's just a bit of info about the general designing and construction if you're interested.
I started with a mini mood board and my sketch. Then instead of making a one piece circle skirt and sewing lace over the top, I decided to cut out a short circle skirt and a section to go at the hem and made sure I had enough lace to go around. I love the subtlety of the black lace and where you can see the cream lining showing through.
Then I cut out my other pieces – waistband and waistband facing and interfacing (2 of the same out of the main fabric as I wanted it self faced and the lining for the skirt – just a simple half circle skirt. Simples.
Before sewing anything together I overlocked the edges that would be exposed so that when it came to sewing it would be a smoother process. Then I began the sewing.
First the skirt sections – main skirt to lace and lace to hem section.
Next I sewed the waistband together at the top edge and then attached the waistband to the skirt with right sides together and facing still left loose. I then attached the lining to the facing side of the waistband in the same way. i.e. right sides together and main fabric left loose.
After that I attached my label and buttons so that all the stitching would be encased in the waistband when I came to sewing it together.
Then came the tricky bit – sewing in the zip, which I've done a tutorial for on my blog. http://dreamingofavonlea.wordpress.com/2013/01/26/a-zipper-with-no-visible-seams/ Followed by the relatively simple; closing the seams, ditch stitching at the base of the waistband to sew both parts together and then hemming the skirt and the lining (the lining is about an inch shorter than the skirt).
By the way – does anyone have any tips for how to sew straight lace onto a circle skirt? I think that the skirt hangs a bit awkwardly because some of the skirt is on the bias and the lace doesn't curve with it.
See more photos and info on my blog http://dreamingofavonlea.wordpress.com/2013/01/26/a-tartan-focus-on-enjoyment/
Material Notes
Tartan wool with a lovely drape
100% cotton lining
Difficulty
Intermediate
Categories