Howdy helicopter
Added Feb 13, 2011
Adelaide, Australia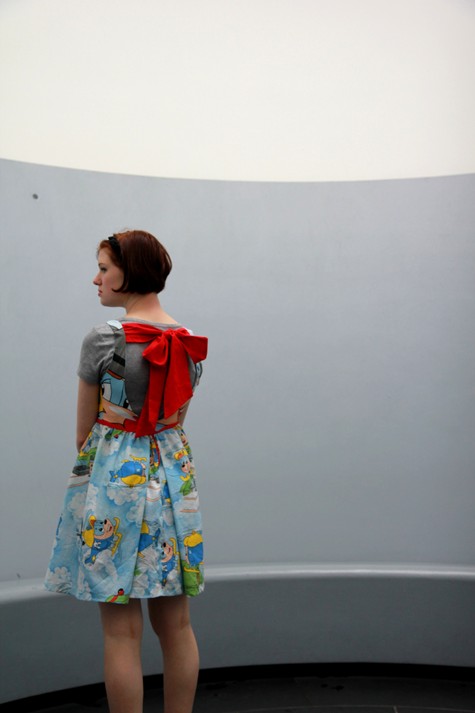 ShareThis
Description
So one fine day when i was op shopping to try and find a new handbag, i came across a budgie the little helicopter bedspread!! So exciting. One of my most favorite shows as a little one.
At the time i didnt have any garment in mind, but knew i could never pass it up.
About a week later i was in the fabric store and feeling a little bit lazy, so decided to just flick through the pattern books. I found this amazing vogue pattern, which was rather simple, but so pretty. Naughty me bought it, and it was about $30. Naughty, because i feel very slack buying a pattern these days after completeling advanced pattern making…..but i really wasnt in the mood to draft up a pattern.
Unfortunately, the bedspread wasnt big enough to fit the huge circle skirt the pattern comes with, so i used two large strips, gathered them, and then put two large inverted plears and centre front and centre back. I also added just a little strip of red between the bodice and the skirt, which i think just breaks it up a bit.
Also, lazy me should have made a toile for the bodice. I never seem to learn. The front gapes a bit, which is really annoying, as if id stopped to think for a while, i would have remembered i have this issue with alot of patterns! It also would have been good just to pivot a bit out of the back scoop, just so it sat a bit better at the back.
Overall, im not too fussed about those two issues, because its more of a casual dress. Although it does look quite dressy without a t-shirt underneath (sorry, i couldnt be bothered trying to find somewhere to change in the gallery sculpture gardens on this cold and wnidy day)
Anywho, hope you enjoy it, its ssuch a super fun dress, and im completely inlove with the bow at the back! Even though it is very hard to do it up yourself and get it right.
p.s. thank you again to my awesome friend Mr. J Spring, for his funtastic photos :)
- Ruffles
Material Notes
Lap zipper, Budgie the little helicopter bed spread, interfacing.
Pattern number: V1102
Difficulty
Intermediate
Categories
1 Reply

1 Reply