How to sew a snood
Added Jan 23, 2012
New York, New Yo...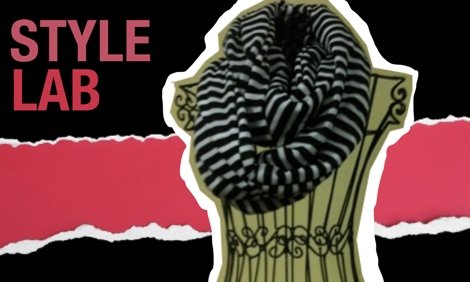 ShareThis
Description
A snood (or infinity scarf)which actually dates back to the Middle Agesis a simple way to dress up just about any outfit. Plus, it'll help keep you warm in this chilly weather.
LoveSewing tip: Make sure you choose a stretchy fabric and a print that goes well with tons of outfits because you won't want to take this thing off.
Materials:
66 inches x 26 inches of stretchy fabric (165 cm x 66 cm)
Instructions:
Step 1: Cut 2 pieces of fabric 66 inches (165 cm) by 13 inches (33 cm) (or one piece on the fold so that it is 26 inches by 66 inches).
Step 2: Sew the long side(s) together with right sides facing in
Step 3: Turn the scarf inside out so that right sides are on the outside
Step 4: Fold in half so that the top of one edge of the scarf is facing the other end.
Step 5: Sew the tops of the open edges together with the right sides matching. Leave a whole at the top.
Step 6: Sew the open space closed by hand with a needle and thread.
Categories
Credits
written by

Ruth Bretholz

originally published on
0 Comments