How To DIY Tiered Layered Dress Skirt "Paradise"
Added Jul 13, 2013
London, United K...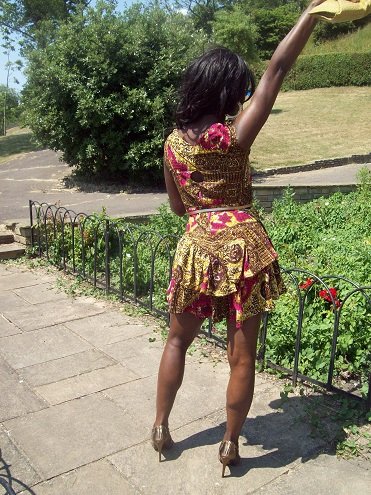 ShareThis
Description
In this weeks tutorial, Esse Designs presents "Paradise". The project is an amazing cocktail of colours. Its prints moving away from florals or stripes to profound art shapes that depict sea leaves and shells. The style, cut, shape and fabric is so trendy, sexy and exotic. Thinking ahead to exotic, I look forward to seeing more prints and shapes in our everyday fashion style soon.
This style absolutely reminds me of the tropics. Close your eyes for a sec and just imagine the white sand, blue/green clear sea, sea shells, sunset, sizzling mouth watering food, drinks and the festive mood of carnival till dawn. Now open. For some this will sound like paradise. By the way carnival is just around the corner too.
This is a dress that many females would love to move in because of its versatilty. One doesn't have to worry about straps, dress being too long, too short or tight to move in. There is absolute freedom and control with this one. It's a dress that will keep you cool and adapts well to making you feel warm when it needs to with the right layers. To visualize what i'm going on about check out the DIY fashion tutorial/demo below, where i share my creative skills and experiences, that uniquely and spectacularly combines the element of dance and the true beauty of this creation.
Effortless style is always best, so if you plan to DIY on this style, know it can be worn with heels, flats or bare feet is complementary (well i think i can get away in stating that :D).
According to the pictures, i wore the dress with bronze open toe cage sandal heels – Dorothy Perkins, Black Bolero – Forever21 and accessories – Primark, Lipstick – my own. You can read my post: The Innovative Fashion Beauty Fix to know how I do my lip colours. I opted for fruity colours in this post, because summer is full on. I think in this weeks post i've gotten away with doing something out of the norm and fun – a true mission indeed:).
Note, i changed the arrangement of the contents in this weeks post but that is only because i'm really explorative and thought it would be a good idea to put it together like this. I really want all that i do to be more than interesting but captivating, soulfully me, unseen before (avoiding deja vu) and comprehensive. In terms of content this week, there is certainly a lot to feast your eyes.
Below is the garment sketch, pattern blue print, demo/tutorial and instruction guide on making your own tier/layered dress skirt.
To view the full post, please see:
http://alerocollections.blogspot.co.uk/
Material Notes
INSTRUCTION GUIDE
My sense of style comes from within, thanks to the world that surrounds me, inspires me, leading me to create something uniquely individual. The focus is on the main functionality of this dress, the skirt of the dress
1. You will need 3 main pattern pieces to begin this project ( Please view the demo/tutorial in techniques)
2. Cut the 3 pattern pieces out of your chosen fabric
3. Lock and pin the bottom edges of the pieces on biased side. Iron for smoothing and then complete with a final hem/stitch on correct side
4. Ruffle the top and bottom skirt pieces
5. Pin top and bottom ruffle to underskirt pattern piece (place the underskirt in between the top and bottom ruffle)
6. Lock and trim any unfinished edges of the skirt and repeat the same steps for the back.
Difficulty
Intermediate
Related Techniques
Categories