Home Sewing is Easy Princess Dress
Added Jul 28, 2015
by shibz
, Australia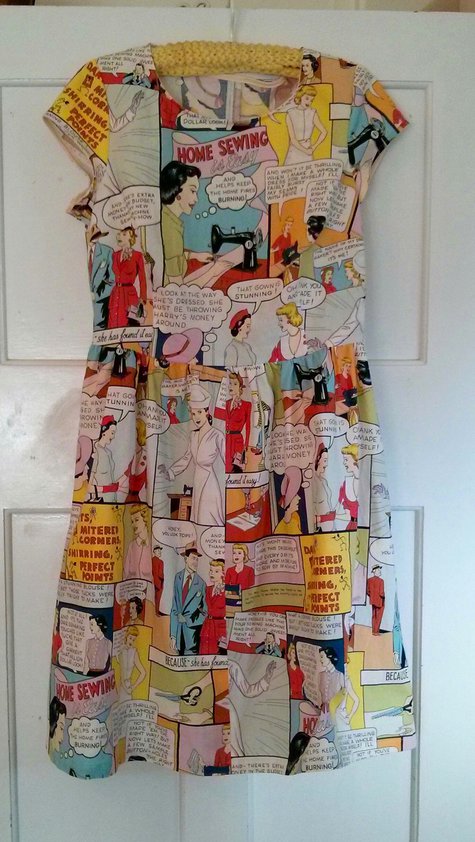 ShareThis
Description
This tongue-in-cheek Alexander Henry fabric had been biding its time in my fabric stash, waiting for the perfect moment. When I spotted Burdastyle Princess Dress I knew it was the right pattern. I made a few alterations for fit and based on personal preference: I'm getting a bit over tight waisted dresses so I decided to make this one comfortable with an elastic waist. To achieve this, I lowered and widened the neckline so I could pull it over my head, eliminated the zip, didn't sew the back darts and instead attached 6mm elastic to the back waistband to pull it to the desired width once the skirt was attached (i.e., the pattern measurement without darts). I did keep the centre back seam as it provided essential back shaping. And more out of laziness than anything (I couldn't fathom printing and taping together a whole skirt) I used the Emery Dress skirt pattern.
Do beware that the armholes on this dress are exceptionally deep and as drafted, I could not move my arms in the sleeves. So they have been shortened to a cap sleeve for maximum movement. There is some annoying pleating and gaping above the bust which seems to be present in most people's iterations of this pattern – I tried to eliminate it with a wedge taken from the armhole but it didn't quite resolve the problem. I'm not sure whether this is a fit problem or ease required for arm movement in sleeves.
Changes made to size 40 bust and shoulders, 42 waist:
- lengthened bodice 1cm
- lowered and widened neckline
- split big waist dart into waist and bust dart
- took 1cm wedge from front armhole to prevent gaping, rotated to bust dart
- curved out armscye as it was quite straight
- drafted cap sleeve as per these instructions (but with a bit more length and ease): http://blog.megannielsen.com/2009/06/my-creative-process-pattern-2/
- 1.5cm swayback adjustment
- did not sew back darts and applied 6mm elastic to back waist, eliminating zip
- used Emery skirt (with CF seam) with inseam pockets
Material Notes
3 yds (2.7m) Alexander Henry Home Sewing is Easy fabric, bought online. Peach sheet for pockets and bias tape, both from Salvo's. Knit tricot interfacing strips to stabilise neckline.
Categories