Home-made dressmakers form I made from recycled stuff I foun...
Added Oct 5, 2011
Chichester, Unit...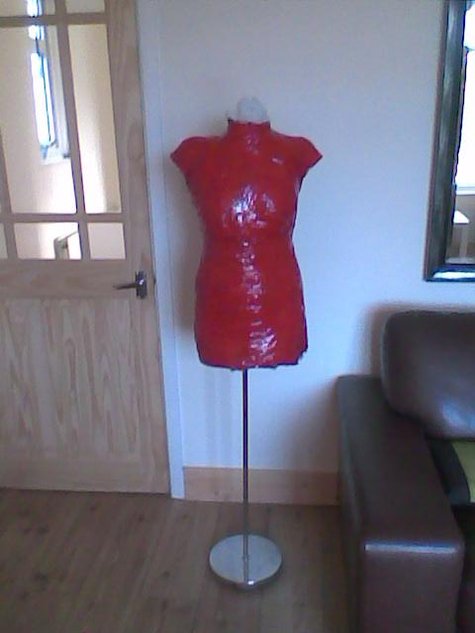 ShareThis
Description
This was a fun and relatively easy project to get stuck into.
1) I stood in my pants and bra while my best friend Amy wrapped me in cling-film (shrink-wrap).
2) My friend and my 4 and a half year old son, Seth, then covered me from neck to thighs in a thin layer of papier mache.
3) I then stood completely still for a very uncomfortable hour while Amy dried me off with the hairdryer.
4) When I was dry she cut straight up the back of the mold and repaired the cut with more papier mache.
5) To keep the mold's shape I stuffed it lightly with the stuffing from a single duvet I didn't need and left it over night to dry.
6) When completely dry in painted the whole thing with a really tough, hard wearing gloss paint.
7) My neighbour threw out a tall, freestanding lamp so I nabbed it from the bin-shed and I gave it a new home. I took off the shade and mounted my bright red torso on the stand (keeping it in place in the neck with expanding foam).
8) Lastly I re-stuffed the mold with lots and lots of duvet stuffing untill it was solid enough to hold fabric with pins.
And there you have a completely free, made to measure, recycled and environmentally friendly dressmakers form.
Material Notes
Cling-film, wallpaper paste, old newspapers, hair dryer, scissors, old duvet, gloss paint, tall, freestanding lamp.
Categories