High-waisted 1940s skirt
Added Aug 28, 2011
London, United K...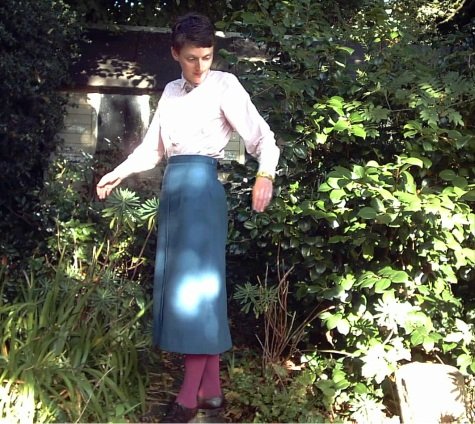 ShareThis
Description
(Apologies for the poor quality of photographs for this project: the dappled sunlight caused so many exposure problems that I resorted to taking pictures in a shaded area, and the camera was only just up to the task.)
I needed a proper fitted, high-waisted skirt to go with my selection of handmade 1930s and 1940s jumpers – since I like to wear my skirts full, most of my wardrobe consists of pleated and/or gathered garments that look ridiculous with a high-waisted jumper on top of them. So I swapped a job lot of random 1960s minidress patterns for a less glamorous design with better leg coverage: my very first 'real' unprinted vintage sewing pattern.
To use as fabric, I cut up a charity shop reject skirt in a sturdy navy-blue twill: it was gigantic (even more so because the waist elastic had rotted!) and I assumed it would provide ample material. In fact, because the 1940s pattern is in effect a five-gore skirt while the source garment had eight panels, and because the diagonal weave of the twill makes it a one-way fabric I found myself in the embarrassing situation of not being able to fit two of my pattern pieces onto the material! I was forced to piece together the spare panels to extend the corners far enough, and – after much heart-searching – took the traumatic decision to cut down my perfectly good right-hand front panel in order to match the pieced-together left-hand front panel.
In fact it worked out perfectly well: I took a lot of trouble matching the diagonal lines of the fabric weave, and the resulting triangular hem insets merely appear as an interesting godet variation – at close quarters when they're noticeable at all; they don't show up in these photos – while the small side strip also inserted into the top of the left-hand front panel turned out to be more or less on top of the placket location, where the additional seam was to prove very useful.
My other two problems didn't show up until I came to sew on the waistband some months (and many long, slow hand-sewn seams) later. Despite tacking up the skirt before the start and testing repeatedly for fit as the stitching progressed, it wasn't until I had laboriously eased the back panels onto the waistband that certain figure issues became visible.
Eventually I discovered that I had a 'sway back' (which almost certainly explains why the waist of my Curtain-A-lining skirt has never really fitted properly – at least now I have some idea what to do about it!) and thus needed to take a semicircle of fabric out of the back/side gores to raise the waist at that point; unfortunately this meant that I was now easing even more fabric into the same length of waistband, resulting in a slightly gathered effect. Unbelievably, however, it was only at this point that it actually occurred to me to check the sizing on the pattern envelope itself and discover that my 26" waist was supposed to correspond to a mere 35" hip measurement – apparently my figure is a little too hour-glass-shaped even for what I'd assumed was an era of nipped-in waists…
I didn't have that much spare seam allowance in the side gores, so had to steal further curved inserts out of all the skirt seams (including both sides of the placket) save the flat front : unpicking a tightly back-stitched seam is such a thankless process that I funked undoing these five inserts any further than I had to, with the result that the skirt is a little more revealingly fitted around the rear than I would normally have aimed for! If I do this pattern again I'll make the alteration properly and simply extend the sides at hip level, thus giving extra flare all the way down: however I certainly wouldn't have been able to fit the widened pattern pieces onto my fabric panels in this case, so perhaps it's just as well I didn't notice at that stage.
Given that I've actually increased the waist-hip ratio from that given, one can judge how much the tiny-waisted illustration on the pattern envelope was exaggerated :-p
Other observations: as can be seen from photo 4, the apparent opening down the front of the skirt is actually a false fly that only opens for a few inches at the bottom. Despite the relatively long, slim appearance of the design this small slit seems to give ample scope for movement and I can stride out briskly: as usual, this below-the-knee style actually provides far more freedom than mid-thigh minis.
It might be fun to alter the pattern so that it becomes a real front-opening skirt with a long row of buttons instead of a short side-placket and hooks….
I had endless trouble with that side-placket. I simply couldn't understand the pattern directions, which appeared to leave raw edges scattered all over the place, and ended up doing it by a completely different method, which involved cutting fresh placket pieces of a different size from the scanty remnants of fabric that were left. Even so, I ended up catch-stitching the top facing back up onto the skirt in an attempt to stop the opening from gaping and the facings pulling out as soon as the hooks were attached (it's not that tightly fitted!) This would have produced an ugly bulge in the fabric if it hadn't happened to correspond with my other pieced-in section; as it is, the seams coincide and give the appearance of an intentional placket insert. I still don't understand how this is supposed to lie flat, since by my count there are nine layers of cloth where the two facings meet – a tall order with anything heavier than cotton dress fabric.
I have yet to construct a successful placket :-(
Material Notes
I dismembered a large-size 'upcycled' skirt in lightweight cotton twill (no need to worry about pre-shrinking!)
Difficulty
Intermediate
Related Techniques
Categories
Season

For

Garment Type

Style

Material
Credits
Patterns from the Past