High neck sheath dress with V Back
Added Mar 30, 2016
by jennybaxt
Melbourne, Austr...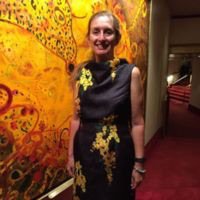 ShareThis
Description
From burda: A figure hugging dress, cut high at the front with a small cowl neckline, and with a V-neck at the back. A sophisticated touch is added by the vertical dart seams which open up and down as pleats.
Pattern Sizing:
34-42. Mine is 38 around the neckline; 40 around the bust and 42 around the hops.
Did it look like the photo/drawing on the pattern envelope once you were done sewing with it?
Yes I would say so.
Were the instructions easy to follow?
The dress was the illustrated sewing course, so the instructions were pretty comprehensive. It was quite a simple pattern, except for the cowl/bands that extended to the back neckline. There was a fiddly part in sewing the bands to the neckline, but the illustrations really helped to make it clear what was to be done. There were good instructions for putting the V neckline in the back also.
What did you particularly like or dislike about the pattern?
I really like the high neckline, v-back and the bands on the back neckline. My partner thinks there is too much fabric pooled under the neckline at the front. I really wouldn't have a clue how to fix that, but I think it is OK how it is. The dress would probably be nicer lined, so it might be worthwhile figuring that out for another time. The dress is actually really comfortable and I think quite flattering. It looks fitted but it not restrictive to walk or sit in. If you do not like the pleats that open out, you could easily sew them as darts instead, but I like them as they are.
Fabric Used:
Dolce and Gabbana fabric from Darn Cheap Fabrics. 100%. Polyester. It was surprisingly nice to sew. I love, love the wattle design on the fabric. See here (Mimosa dress) for a dress a very similar fabric was used for by the designers. Or google "Dolce & Gabbana Mimosa dress".
Pattern alterations or any design changes you made:
None. I liked it was it was.
Would you sew it again? Would you recommend it to others?
I might sew the top version of it, and if I find the right fabric for a work/day version of the dress I certainly would make it again.
Conclusion:
I love, love love my new dress! I love how the fabric and the style of the pattern worked together, just as had imagined they would before I started cutting the fabric.
Difficulty
Intermediate
Categories