Help needed! Designers or those who understand design! (sli...
Added Feb 10, 2013
Sydney, Australia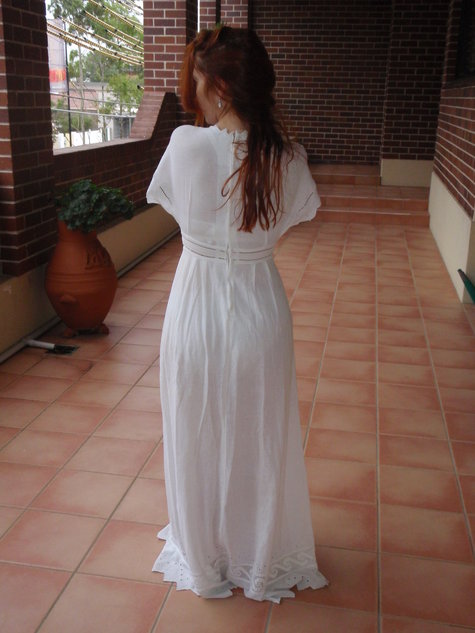 ShareThis
Description
This is a WIP refashion project. I didn't make this dress, it's a beautiful vintage (maybe 1980s) dress given to me by my cousin. She's obviously several inches taller than me. I've worn it out a couple of times (couldn't resist) and had to carry my skirts around me, edwardian style. I don't want to wreck the dress by having it drag around – it needs to be taken up.
Problem: I can't take up the dress at that lovely detailed hem. If I take it up at the high-waist seamline, that's a heck of a lot of work, including removing and replacing the zipper.
I figure I can make a tier in the skirt, and take a couple of inches out of it there. Problem is, I don't know where in the skirt to do that. Mid thigh? Just above the knee? Knee? Calf?
I want the hemline to finish at my ankles (as I often wear flats).
Can anyone out there advise me where to slash the skirt and attach a (slightly gathered) tier? If you can, please give reasons for your answer.
I have no design skill whatsoever. I just don't want to go ahead and find out too late I've done it wrong.
Much gratitude in advance!!!!!
Categories