He finally got his pants
Added Jun 2, 2010
Winnipeg, Canada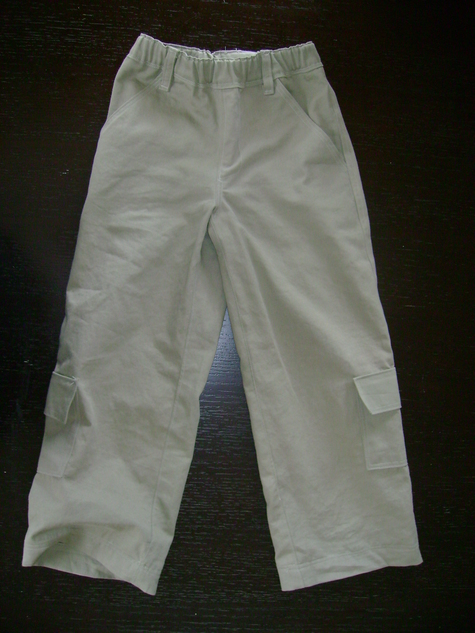 ShareThis
Description
Since acting on my impulse to restart sewing, and starting with a cute little girl skirt, my son got a little jealous and wanted something for himself. Anyone who sews and also has a boy will know that patterns for boys clothes are few and far between. I decided to try to replicate his favorite school pants, a pair of elastic waist band cargo pants. Because my sewing skills are somewhat lacking, I knew I would need a pattern. I scoured the main pattern companies websites, finally finding what I was looking for with Burda (thanks Burda!). I ran out and bought 9641 and have taken about 2 months (!!) to finish them. My son was quite excited when I finally finished the bottom hem (after running out the night before to buy more thread) that he excitedly put them on and started dancing around in them.
I do NOT take beautiful pictures like others on Burda Style (I could only wish…). I was trying to, but either he stood absolutely still, or moved around so fast that the pics were a blur! Unfortunately, we are now coming into summer, so they are likely not to get much wear for the next few months, so I made sure to hem them long to be ready for the fall. The pattern did not call for velcro closures on the pants pocket flaps, but I added it because the other pants had them and I didn't want them flapping open. I also double top stitched most of the seams to keep the look the other pants have, and for practice.
Overall, I am very proud of them! I haven't made pants for quite some time.
Material Notes
about 1 m cotton twill, 1" elastic, 4 small pieces of 1" velcro
Difficulty
Novice
Categories