HAVE A VERY TILDA CHRISTMAS!!
Added Dec 16, 2015
by Mirei71
***, Switzerland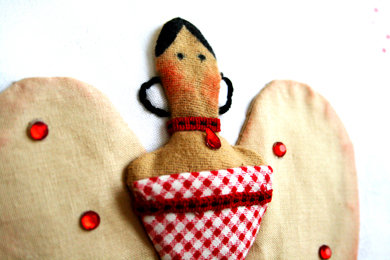 ShareThis
Description
Today I show you my Christmas decoration of this year. Having critisized heavily the lack of taste in this years Christmas decoration on many houses, I feel it´s my responsability to dedicate myself to this subject for todays post. Once again I´m sitting in the train on the way to my sewing classes. But this time I have some good Christmas Music coming from my earphones. Mariah Carey´s Christmas CD ist my yearly "drug" to get in the Christmas mood. No Christmas without good old Mariah!! :-) Altough the weather outside strives against being any winter-like (too warm, pinky heaven and not one single snowflake) I am defenitely in a Christmas mood! (thanks to Mariah…lol!)
So this means that I quickly have to put some home decoration together before the mood searches its way out through the chimney! Even the "Adventscalendar" (is there an English word for that??) which I could open on december 4th suits my theme… and the theme is TILDA!
Tildaprojects have followed me throughout my 9 years of sewing and were among my first experiences at the very beginning. It was love at first stitch. My first "sewing love affair". And every time I start a Tilda project today it reminds me of that time in a sweet way. Like a past, long gone love affair which you look back on now and then. Those little sewing projects which are quickly done and help you to achieve your sewing success very easily are just stunning! It takes some patience sometimes to sew the little objects, stuff and decorate them but if you just take your time and stay relaxed (that's the secret…), they can become a real wellness treatment to you. I have decided to go for the classical red/white (with some little tiny exceptions) but I can imagine that for example rose and bordeaux would look good too… or maybe mint and white? Maybe next year!
Let me know if you like my Christmas collection and show me yours!! I am curious to see :-)
Stay relaxed, sew on and have a fab pre-Christmas time! Big hugs from me to you and see/read you in my next post. Bye!!
Material Notes
cotton
Difficulty
Intermediate
Categories