Hats and Bags.....
Added Jun 12, 2011
Dumont, New Jers...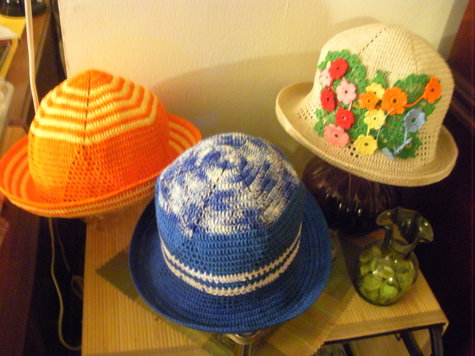 ShareThis
Description
This is a style of hat I have done for my friends for many years. One friend has hers for about 7 years and washes it and shapes it regularly. They are made of #10 cotton yarn. The color is what suits you. The style is simple and fits many moods and outfit. GREAT beach hat! A skilled crocheter can make one in 6-8 hours. The yarn is fine so it takes a bit more time.
The bags and purses continue to evolve. The real evolution is in the design of the flower that decorate them. I have been learning from 3 masters who are international and internationally known. However, some of the flowers seemed to lack life and dimension. The main thrust of my work has been to develop new techniques to make my flowers more lifelike. I hope you agree that I have succeeded.:-)
All of the pictured projects are for sale. My website is under construction now. Until then, contact me for details at my email address…
Material Notes
Hats;
100% Cotton yarn, size #10 (I have a good source for South Maid which I like)
Purses and bags;
Medium to heavy Cotton Denim material
Zipper to suit
100% Silk Ribbon. Silk has a different way of twisting and folding. It has its own texture as well that tends to accept colors in a more natural pattern than synthetics. While it is more expensive by far the results are obviously worth the cost.. It is a matter of, "You get what you pay for".
Difficulty
Intermediate
Categories