Harry Potter Robes
Added Aug 13, 2009
by alasse
Munich, Germany

Step 2 Pattern construction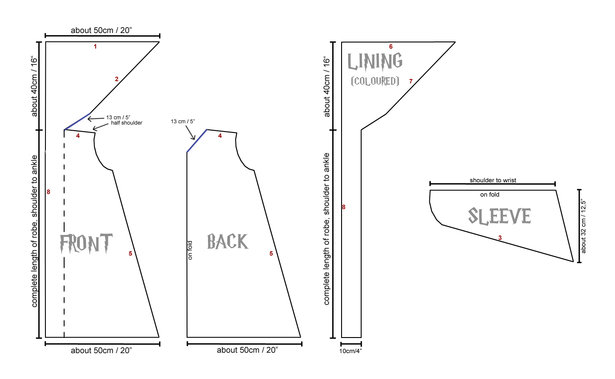 Basically this is a very easy pattern, once you know how it's done. I thought it would make more sense to just explain how to make the pattern instead of uploading one, so you can fit it to whatever measurements you need.
Now, the measurements I added in the picture were the ones I used and are simply a guideline. Note that my robes were done for grown women, so of the whole thing would have to be a lot smaller for a child.
Because someone recently pointed it out to me: I marked one of the seams "half shoulder". This is supposed to me half of the measurement from shoulder to shoulder. I'm sorry, it made sense to me, so I didn't realize how unclear that was.
I added a new picture where you can see all pattern pieces separately, because the old one was kind of hard to understand. It made sense to me, but then again, I created the pattern.
The image is kind of small here on burdastyle and (at least for me) it's not clickable, so go here to see it a bit bigger: Link
Okay, the whole thing has to be cut out of black fabric, the main part twice, the sleeve twice on fold and the back once on fold.
Out of the fabric in the colour of your house you have to cut out the front lining stripe (which includes the hood) twice and the sleeves twice on fold.
IMPORTANT: I marked two lines in blue, these have to be the same length!!!
1 Reply

Jul 31, 2016, 06.35 PMby AFanco

1 Reply

1 Reply

1 Reply

1 Reply

1 Reply

1 Reply

1 Reply

Aug 26, 2011, 08.58 PMby gusmom

1 Reply

1 Reply

1 Reply

1 Reply

1 Reply

1 Reply