Hand Sewn 1780's Georgian Shift
Added Jul 2, 2012
Adelaide, Australia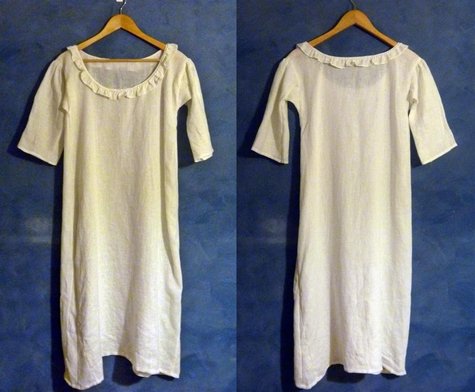 ShareThis
Description
Over the weekend I hung out with a few other ladies doing a workshop. We made linen shifts, with the intention of doing a few more weekend courses to do stays, jackets, hats…until we have a finish (as accurate as possible) historical costume.
I used a pre made pattern, however the lady holding the class drafted her own from some instructions that she had found on someones blog. But either way the pattern ended up being almost the same!
Simple garment, not too many pieces! The hardest part are the goddets at the underarm, and figuring out which way all the flat fell seams go :/ Most of the shift (or chemise…but i think shift is more accurate to that particular time period) has been hand stitched.
Gosh what a long time it takes. But the ladies house who we were at had such a beautiful place, it was a delight to sit around near her fire and get fed soup whilst hand stitching. But i think that the linen, if you are going to hand stitch, is so beautiful to use. I think linen will start feauturing more in items i make in the future…
Heaps of interesting facts were learnt. Like, they used to more the fabric to the width of the garment, so when they cut it, alot of the garments seams would end up being the selvedge. That was my favorite fact. Alot of effort to go to….but I guess in those days you didnt just wander into the store to get your linen…
My favorite thing i learnt though, is, actually im going to have to ask. We watched a tutorial on how to do it….and I thought it was a Whipped roll gathers!,. Anywho it's the gathering technique used around the neckline in the piccies. Finishes off the edge and creates a really nice texture of what i'd call bubbles? I think I will use this alot, really for a different finish. I love it. here's a link to a good tute, nice and close details, but there is a quicker way to do it http://vimeo.com/13284470 which is this one http://www.youtube.com/watch?v=T0-THscQNX8
All up it probably took about 8 hours, when you deduct eating homemade lunches, watching old movies, and chatting.
_ going to wear this bad boy to bed tonight.
Material Notes
100% linen from fabric-store.com
Needle and thread
LOTS of time and patients!
Good company
Difficulty
Intermediate
Categories
Credits
Earthly Delights

http://www.facebook.com/EDHDA?ref=ts