Gypsy Putsi Drawstring Pouch
Added Sep 20, 2011
Sheffield Lake, ...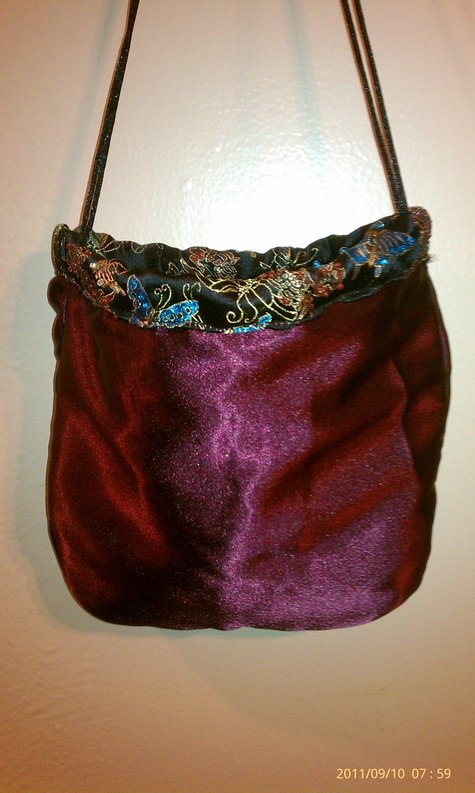 ShareThis
Description
You may ask what a Putsi (Puht-Zee) is? A Putsi is a magical bag that most Gypsy's use to carry their talismans & amulets among their most treasured items. Generally they are worn tied around the hip area or around the neck. They range in size, colors and may be beaded, embroidered and/or decorated with bells and items from nature. The possibilities are endless when personalizing a Putsi!
Shaman also uses similar bags but they call them Medicine Bags, they will generally carry herbs for medicinal purposes.
For my Putsi I heavily decorated (hand stitched) around the Brocade butterflies with complimenting seed beads, I also added 8mm antique brass finished bells on the front of the bag; end of drawstring cords & in between the tassel fringe. I left the drawstring cords long to make it easier for you to tie/hang around your hip/neck.
My bag is made from quality butterfly decorated Brocade fabric with colors of gold, greens, pink & blue on a black background. The lining is a beautiful burgundy satin material to give the Putsi an elegant finish. The beads & bag are double stitched to insure security; because the bells are heavier they are triple stitched.
Dimensions are the following:
1.) The bag open all the way at the top measures 8 inches across
2.) Closed the bag measures 3 inches across
3.) The middle of the bag measures 8 ¼ inches across
4.) The bottom of the bag measures 5 inches across
5.) Depth 7 inches
6.) It is 11 inches tall overall including the tassel
7.) Without the tassel it is 7 inches tall
8.) The drawstring cords when not pulled tight measure 13 inches long
9.) When the drawstring cords are pulled tight it measures 18 inches long
Difficulty
Intermediate
Categories
Garment Type