Gussied up rubber boots
Added May 3, 2011
Winnipeg, Canada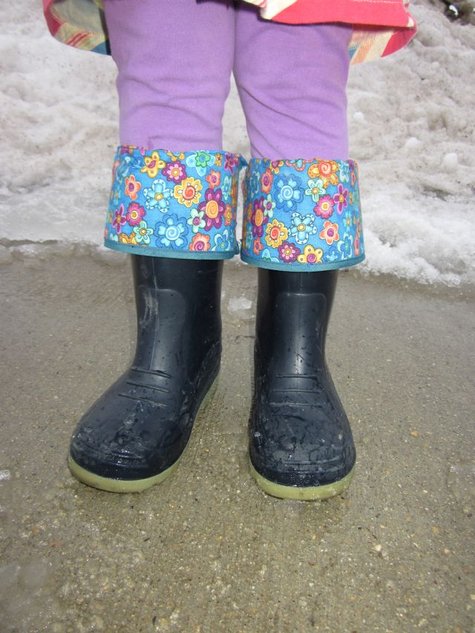 ShareThis
Description
My little girl is probably accustomed to hand me downs by now. However, getting her big brother's boots might be a little much. I thought I would try to give them a little girl touch. I was leafing through the March 2011 (I think…) BurdaStyle magazine a couple of months ago and found a picture of colourful rubber boot gaiters (I am calling them gaiters for lack of a better word). I couldn't quite figure out how their version would stay on, so I decided to modify it. I remembered I had 4 hook and loop wrist bands left over from an event last year, waiting for a project, so I had an epiphany. I wanted to make sure that they would stay on for play time but be removable for the inevitable cleaning up required. I hot glued the loop side out of two of the wrist bands, one around the top of each boot. Then I stitched the hook side out on the gaiters. Fold over the tops and voila!
I bought the fabric as a remnant last year. I remember when I bought it, the clerk gave me a puzzled look and asked if I had a plan for the fabric. I smiled and said no, but I couldn't pass it up. I love remnant bins, you never know what you find. I am one of those crafters that does better with stuff on hand for random ideas I have, rather than searching the stores when inspiration arises. However, that leads to a lot of stuff on hand! My daugher picked out the buttons. I didn't do button holes, but rather, I used snaps.
Material Notes
small amount of quilting cotton, fusable interfacing, narrow double fold bias tape, 2 snaps, 2 buttons, 4 pieces of hoop and loop (could use 2 pieces of hook and 2 pieces of loop), about 10" each.
Difficulty
Novice
Categories