Gold Brocade Pin-Up Dress
Added Jun 24, 2013
Hamilton, Canada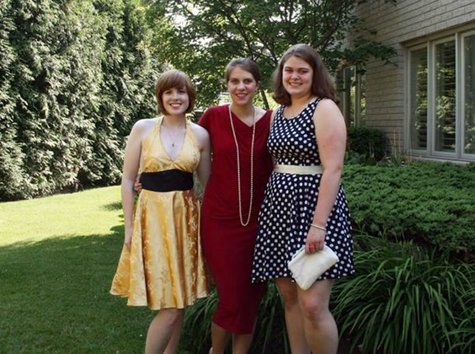 ShareThis
Description
I made this dress for prom. Yes, I had prom last year, but then I returned for a "victory lap", as did a few of my friends. Now, actual prom tickets were pretty expensive and actual prom isn't cool enough for us Lord of The Rings and Sherlock fans. :P So we had our own prom , in the backyard. :) It was quite fun.
This dress wasn't fun to make though. It was a royal pain in the a**! I didn't use any pattern, which is hindsight, may not have been the best plan. Also in hindsight, I probably should have started working on it sooner. As it was, I was hemming the thing hours before we were all supposed to arrive at the event.
So, it's not entirely finished. I need to finish the hem properly, and there are a few "messy spots" that need to be fixed. But they're mostly little things. Other than that, I think it looks great!
It's made of gold silk brocade, with Chinese dragons dancing all over the skirt and bust. The fabric for the waistband was reclaimed from a formal dress of my sister's that was out of style and no longer fit her. It's a halter neckline and backless, (which I don't have any photos of, unfortunately). And it was another opportunity to practice putting in an invisible zipper! :D (I hate invisible zippers. With a passion. They are the bane of my existence.)
Material Notes
Silk Brocade, Synthetic Satin (I think)
Difficulty
Advanced
Related Techniques
Categories