Glam for MoM: DIY Glitter Shoes
Added Jan 15, 2014
Melbourne, Austr...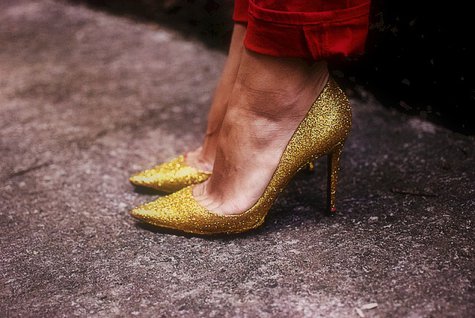 ShareThis
Description
There is no woman in the world who doesn't love glamorous shoes, right? If you want to bedazzle everyone at the office party or at a family gathering with a 'brand new' pair of stunning shoes, this is just the DIY project for you. Furthermore, if you have a little girl you can do the same with one of her pairs. How cute would you two be in matching sets of glam shoes?
Gear up as it's show time! Here is a list of the supplies you need:
1 pair of pumps (or ballet shoes depending on what you prefer to wear). It's best to use suede shoes as the glue and glitter tend to stick easier on it.
Old newspaper/ magazine or any other protective coverage – you wouldn't want to get adhesive and glitter all over your table or other work surface.
Adhesive: Regular white glue works best. Keep in mind that you need regular glue and not paste.
Glitter – You can get as creative as you want. You might pick one, two or more colours and create an explosion of colour and sparkle on the surface of the shoes. Since I prefer single-colour creations, I decided to use just gold. It's rather Christmasy and, to be honest, I have the perfect dress to wear it with…
Note: You will need lots of glitter, so it will pay off to shop around a little. I almost bought 6 small veils of glitter before I spotted the huge jar on the bottom shelf which was a much better deal.
2 old paint brushes
The best part of this project is that anyone can do it – you don't need to be a DIY guru:
1. Clean up the shoes and let them dry out completely. This is important! In order to have the glue & glitter stick together nicely, you need to have a clean surface to work with.
2. Mix approximately 1/3 of the glue (I used Modge Podge, if this gives you an estimate of how much adhesive to use) with glitter in a container. Since you will have very difficult time cleaning the container, consider it carefully.
3. Using one of the brushes paint the surface of the shoes.
4. To thicken the coat of glitter, sprinkle extra glitter. Be generous, you can gather the excess and use it again later.
5. Don't be afraid about the glitter which falls in the shoes, you can wipe it off later.
6. Repeat steps 1 to 3 until the entire surface of both shoes is covered in glitter.
7. Let them dry overnight, preferably outdoors.
Material Notes
1 pair of shoes – pumps, sandals, boots…. basically, everything will work;
1 bottle or tube of adhesive – I prefer Modge Podge;
Glitter – lots of it;
Old brushes;
Plastic container.
Difficulty
Novice
Categories
Season

For

Garment Type

Style

Material
Credits
Paul's Cleaning Sydney - Spring Cleaning Services