Ginger Jeans by Heather Lou
Added Jul 24, 2015
Cincinnati, Ohio...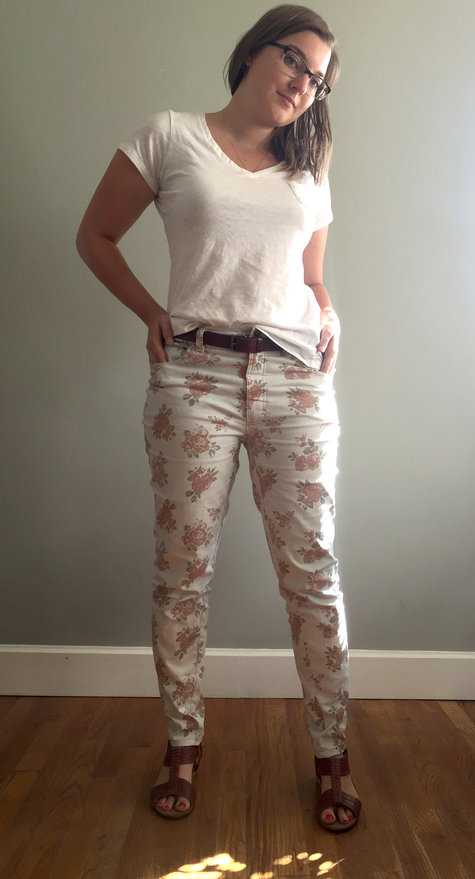 ShareThis
Description
After researching other people's makes and reading through the sew-a-long multiple times I felt ready to move forward with making my first pair of jeans out of some weird floral stretchy denim ($2 a yard!).
I have to say, I am most pleased with how neat and clean my front fly turned out. My topstitching actually turned out pretty nice, too, although I just used regular thread for these practice jeans. I didn't use any rivets or even a jeans button, opting instead to use two regular buttons.
Unfortunately the fit really wasn't working for me, so I had to make quite a few adjustments. Based on my measurements I cut a size 12, grading to 14 at the hip and back to 12 for the waistband. I ended up taking a wedge out of the back yoke, stitching four 1/2″ darts in the waistband, taking in the sides at the hips by almost 1 1/2″ and the fit still wasn't right. So I took in the inseam at the crotch by about 1 1/2″ and flattened out the front crotch curve. I probably should have left the crotch alone and instead taken in the waist even more because they went from high-waisted to about 1/2″ below my belly button. I also tapered the calf area by about 1 – 1/2″ from the knee on either side.
Luckily, I had basted the seams, so I was able to adjust the fitting quite a bit. I'm not sure if it was my fabric choice (the denim is very lightweight and pretty stretchy) but the size I cut just overall seemed way too big. I have some heavier stretch denim (that I used for Brad's apron) and hopefully it will work better.
The adjustments I plan on making to the next pair are: cut a straight size 12, make a swayback adjustment to the yoke and waistband, place the zipper a little closer to the fly, shorten pocket length and I may omit the pocket stays. I like the idea of pocket stays but I don't like that I can actually see the bottom of the stays through the pants fabric. There are definitely some issues with the jeans but they were great practice for several new techniques and I feel like I have a better understanding of how to fit pants.
Material Notes
denim twill, floral
Difficulty
Intermediate
Related Techniques
Categories
Credits