Get Ready to Show Off Your Pedicures Without Spending a Bundle
Added Jul 14, 2016
by Cherylb365
Woodinville, Was...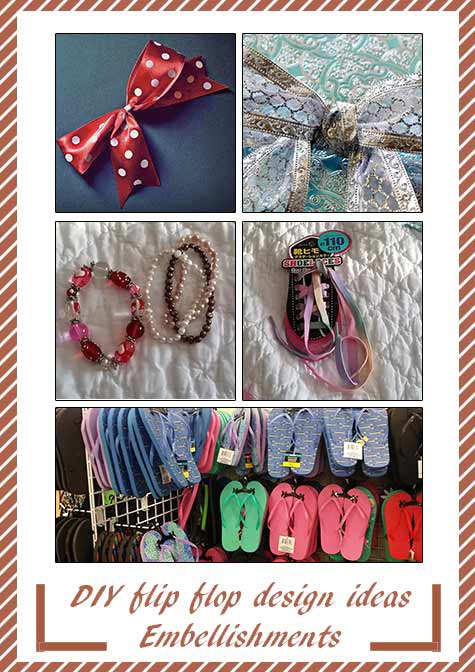 ShareThis
Description
Summertime is all about cute, pedicured toenails, sandals and flip flops. If you love exposing those stylized tootsies during the warm summer months, you're going to love these DIY flip flop design ideas. Although flip flops are great for summer, affordable, stylish options are a bit limited. The good news is that for as little as a $1.00 and change you can turn a cheap pair of dollar store flip flops into fashionable sandals you'll be proud to show off. You might even have some in your closet you could transform. So, read on and check out the following DIY design ideas and get ready to create your own unique flip flops.
---
NEXT
Braided Straps
This style is really easy and all you need is cloth straps and flip flops and a creative idea. Basically, you just replace the rubber straps with a good length of cloth. You can buy fabric if you like or just simply cut it out of spare tee shirts, tops, pillow cases, the possibilities are endless. I just picked up some long, wide shoelaces in rainbow colors that I plan on using down the road to create a pair.
---
NEXT
Beading
Need dressier sandals? Instead of paying a bundle for elegant options (good luck finding dressy flip flops), why not just embellish them yourself? Beads are the perfect embellishment for flip-flops and yes, you can make these casual sandals look elegant. Beaded flip flops are also really easy to make and all you'll need is the flip-flops, an assortment of beads, ribbon, needle and thread (don't worry – you just need basically sewing skills) and a hot glue gun. You can purchase beads just about anywhere and some of my friends just pick up beaded necklaces and bracelets at thrift stores and take them apart.
---
NEXT
Gladiator Style Flip Flops
I've loved this style of sandal since I was a teenager and am happy to see that the it seems to be trending again. You can make them just about any color, although I'm partial to purple. My sister prefers the look of suede (beige to brownish) which she'll use if she can get a good deal on it, but may end up opting for a faux suede material or maybe even felt.
---
NEXT
Buttons & Bows
What's not to love about buttons and bows? You can really get wildly decorative with this fun combination. In a whimsical mood? Use them together, perhaps a cute bow where the rubber/plastic strapping separates your big toe, placing multi-colored buttons up the sides. The possibilities are endless. I'm a big fan of using a glue gun for just about every craft related project I take on. That said, the pieces will probably stay attached longer if you sew the pieces on. If you go this route you'll need a sturdy needle, fishing line (it's stronger) and pliers to help pull the fishing line through. You can buy pre-made bows at most fabrics stores, as well as buttons, but if you're a fan of thrift stores, be sure to check them out as well, looking bags of miscellaneous buttons, or browse through the clothing and look for cool choices.
---
NEXT
Scarf Adorned Flip Flops
If you like "easy" you'll love this DIY flip flop idea. All you have to do is wrap the scarf of your choice about the scandal straps, leaving extra at the ends. If you want to add a nice touch, put a pendant of some sort where the straps meet (could be a ring, a cute pin, etc. This design is so quick and easy that you can make a pair to match different outfits in minutes. All you need is a scarf and they don't need to be pricey.
Material Notes
You can embellish your flip flops with just about anything, including ribbon, felt, suede or faux suede, beads, buttons, scraps of fabric, colorful shoelaces, shells, scarves, bows, etc.
Necessary tools:
• 1 Pair of flip-flops
• Hot glue gun
• Needle and thread
• Fishing line
• Pliers
• Embellishments – the best part. You can embellish your flip flops with just about anything, including ribbon, felt, suede or faux suede, beads, buttons, scraps of fabric, colorful shoelaces, shells, scarves, bows, etc.
• Your imagination
Difficulty
Novice
Categories
Season

For

Garment Type

Style

Material
Credits
Proton Cleaning Geelong