Gears reconstruct/upcycle
Added Apr 1, 2011
by xxmazenxx
Jacksonville, Fl...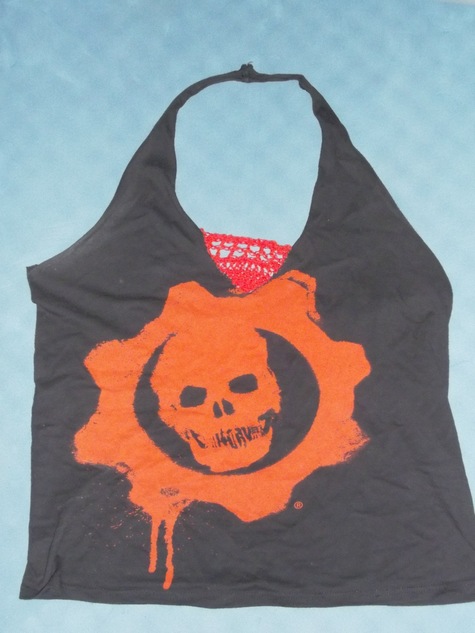 ShareThis
Description
I worked as a manager for GameStop/EB Games for several years. Over that time I accumulated massive piles of swag. Most of which are T-shirts. I had constantly upcycled/reconstructed as many as I could and wear them to promote games at work. Now that I'm no longer at that job I've paired down and kept only the stuff that really interested me. I had altered this Gears of War shirt way back when GoW2 came out (because of where the graphic was located on the shirt it inspired an uber easy way to make just about any t-shirt into a nice fitted halter) and have worn it a lot. After all that wearing and washing the lovely V that I had in the front had worn itself mighty low. I had played with ways to fill that gap in and make it less 'showy' on my bits and pieces. I used ribbon, then metal work, thought about going the full distance and putting grommets in and doing a lace up the front. eh.
I was going thru a box of yarn that was given to me and found this redish orange in the bottom of the box. Its a lightweight cotton. Red is not a color I use much, in any project. So I was shocked that I finally had a possible use for it!
I sat down and looked at my 1003 crochet and knit stitch book and played around with lacework patterns. Since the V in the shirt isn't a huge project it took 3 commercial breaks while watching AI to get this done.
Thank you so much for checking out my project. If interested I will post an instruction guide for the Uber Easy Halter design (which that gears of war shirt actually inspired) as well as the front crochet insert.
Material Notes
*T-shirt for upcycling/reconstruct
*Fine Crochet cotton thread in Orangish Red (since this was given to me it had no label or color listing)
*E/4 crochet hook
*Needle and thread
*A little time and creativity
**My camera was about to die. The pictures came out a little washed. The gears of war graphic is more Redish in person than the orange that it shows in the picture. Sorry for the bad images. I will get those corrected as soon as the camera recharges.
The Ninja Gaiden shirt is now on my project list. I am working on a full crochet top. from the bust to the neck & sleeves too. Its going to be reworked from its current 'Tube' top status to a japanese inspired top.
Difficulty
Intermediate
Categories