Galaxy Sweater Dress
Added Mar 2, 2011
by lauramae
Novato, Californ...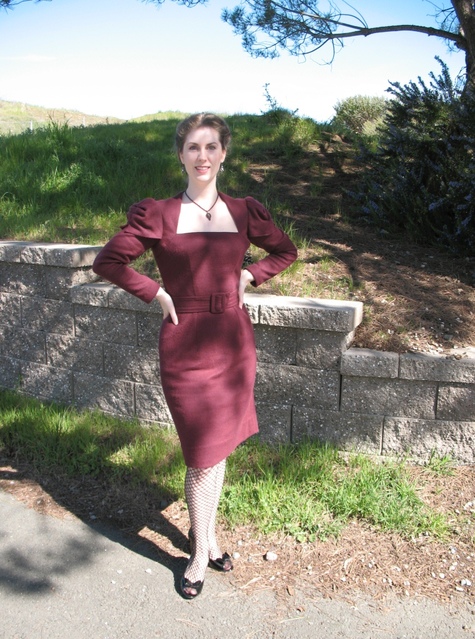 ShareThis
Description
Vogue 8280: Fitted dress, lined bodice, back zipper closing with front flange. A, B, E, F: back slit opening. C, D: pleated lower section. Armhole and sleeve variations. A: sash with hook and eye closing. I chose View F. [This pattern is the Vogue knock-off of Roland Mouret's fabulous Galaxy Dress from his Fall 2005 Ready to Wear Collection.]
This was my first experience with a knit. Granted, it was a double-knit, but without all those lovely bloggers out there, I would never have attempted a knit because of my lack of a serger. So thanks to all those lovely ladies that helped me realize that I can treat a double-knit like any old woven fabric. I did use a ball point needle which I found in my sewing basket – not sure why it was there – I probably bought them when I started sewing and did not know what to look for!
The instructions for this pattern are incredibly difficult to follow. This pattern is labeled "easy," and I would disagree with this simply because Vogue sends you on a wild goose chase trying to figure out which part of three different sets of instructions to use. For example, I made up View F, so I begin at the end of page 4 of the instructions; I start by "making in same manner as Dress D, paragraphs 1-4," then step 5 instructs me to continue as Dress A, paragraph 9-11 (although my view also contains paragraphs numbered 9-11), then step 15 of Dress F sends you back to Dress B – what a nightmare!
View F would have me put the sleeve head under both of my sleeves, although it is obvious to me that the pouf that needs to happen is just for the over-sleeve (so my sleeve head is sandwiched between the two sleeves). I also covered the gathered netting the creates the sleeve head with my lining fabric.
Also, the back of the pattern does not give a yardage amount for the lining – the only way to tell that the pattern in lined is from the description that states "lined bodice."
That being said, no one step is terribly difficult. But please do not tackle this dress if you do not have any sewing experience – you will just end up incredibly frustrated!
I hand stitched the flanges to the bodice. This allowed me to wear a regular balconette bra instead of a strapless – the neckline is very wide! The sleeves and the sleeve head also pull the neckline wide and if the flanges are not secured, the shoulder seam fell off my shoulders.
I also lined the skirt and long-sleeves (not suggested in those lovely instructions, but very easy to accomplish on your own by simply cutting duplicate pieces in the lining fabric).
I would absolutely recommend this to anyone who fell in love with the original runway dress but could not afford it. And I will definitely be sewing this one up again . . . so many views, so little time to sew!
I love my dress! And my first experience with a knit went brilliantly. Thank you bloggers!
Material Notes
Brushed wool blend sweater double knit in maroon
Bemberg lining in port wine
Rayon seam binding (hug snug purchased at fabric.com)
22" invisible zipper
Difficulty
Intermediate
Categories