From Blazer to Tiger of Sweden inspired west
Added Aug 12, 2012
by 2011ebj1987
Kristiansund, No...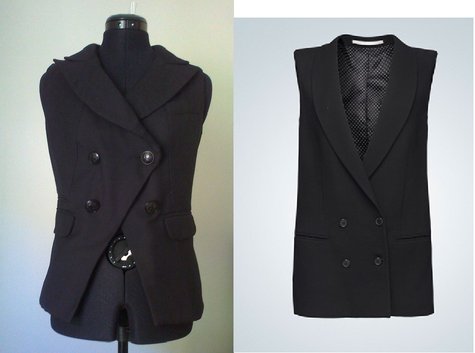 ShareThis
Description
Inspiration: Tiger of Sweden vest (autum collection 12). Price 11 000 RUB/275 EUR/340 USD/215 GBP.
There are probobly a 100 ways to do this, but this is my way:
1) Find an old blazer in your closet.
2) Cut of the arms and leave enough fabric to make an trim around the arms. Hold on to the cuted off arms for a while, they might come inhandy later;)
3) Take out the shoulder pillows. I tried to sew them in first, but that did not go well:s
4) Attatch the main fabric and the lining together, fold it in and sew a trim.
5) If you succeeded, you are all done! That was not my case. The lining slipped from the main fabric, so I had to come up with an alternative solution. First i sewed as much as possible of the lining where it should be by hand, than I cutted som strips of the arms and glued this in the jacket.
And the result: Its amazing and I really don't feel the need to buy the original!
To see the whole prosess, visit my blog.
Difficulty
Novice
Categories