Freezing Liz
Added Jan 24, 2010
by bttn
Miskolc, Hungary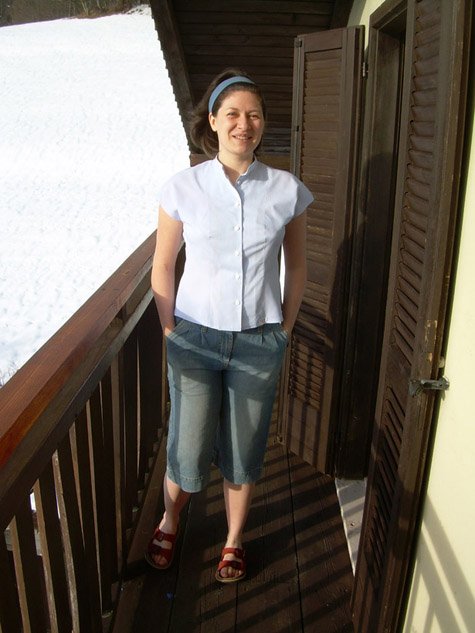 ShareThis
Description
Finally I post it. This is my first blouse, and I learned a lot while sewing it. My mother sent me tons of left over fabric, wich were left by her seamstress frend, when she moved to the US. Thanks. So I choose this light weight blue stripy cotton (even if you can't see it, yes, blue stripy). Before I started with it, I've looked at the other members' descriptions about this project, and they mostly had two problems: first the sizing, then the collar.
At the pattern I hesitated a bit. According to the bust size, I cut out the size 42 first, but it looked so huge, that I decided to go rather with the size 40 and It was a good decision. Then I thought, to shorten the pattern pieces, since I'm 160 cm, so according to this method, I gave it a try. If I sew a Liz again for myself, I won't do it at the upper line, because this caused some little wrinkles over my bust. Maybe you can't see on the pics, but I cut the side parts bias wise, because since my daughter's birth I have no waist, and the blouse looks really nice out this way.
It was easy to assembly, but the collar. I tried to find some help here, but at the end I followed the instructions of the burda sewing book about the stand-up collar. If you are a beginner like me, maybe this can help you, I did it this way: 1. There are the two pieces of the collar, one with the interfacing, and the other without. Take the collar without interfacing (this will be the outer one) and pin onto the blouse, right sides facing, centers matching, collar notches with the shoulder seams matching. Baste and stitch, but at both ends leave the gap for the seam allowaces. 2. Now take the inner collar, put on the outer collar, right sides facing, baste and stitch along the sides and the upper line, but leave open the lower seam allowance. 3. Now you can trim this seam allowance and cut in. 4. Turn out the collar, press it. 5. Fold the lower seam allowances inwards, press them. You can also trim and cut them in. 6. Now fold the interfaced part of the front center, it's upper edge goes between the two layers of the collar. 7. Baste them together. 8. Topstitch the whole collar narrowly from the outer side. Done. I hope it was clear enough, because once I understood the method, It's easy to sew, believe me.
Altough it's not perfect yet, I'm very happy with it! Tell me what do you think about it!
Material Notes
100% light weight cotton
Difficulty
Novice
Categories
This project is based on
Make it