For The Sake of Sequins
Added Sep 19, 2012
by Julia Morley
Pittsburgh, Penn...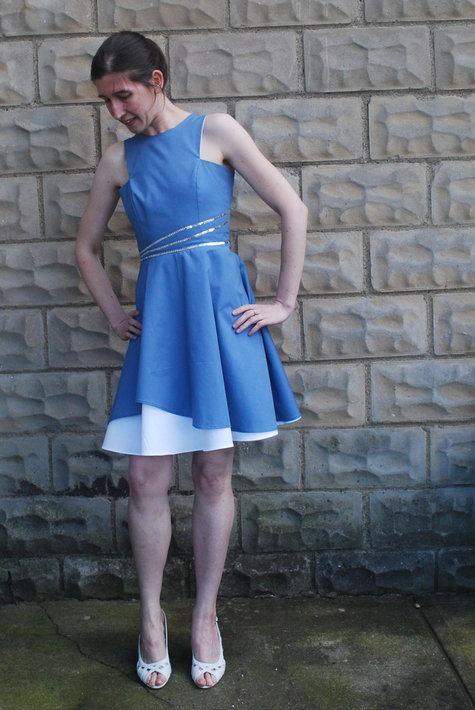 ShareThis
Description
I think this might now be my favorite dress in my entire wardrobe. I'm pretty sure I like it better than my prom dress (which yes, is still in my wardrobe. You know, just in case I get invited to another prom.) I made it to wear to the Cleveland Lindy Exchange this weekend, which is a big event where lots of swing dancers get together to do the Lindy Hop. Seriously, if you like wearing awesome cutesy skirts and dresses, swing dance is the best excuse to do it. Definitely on my top 10 list of reasons why I do it.
The pattern is Burda 7232, which for some reason gets mediocre reviews on pattern review. I don't understand why! I thought it was a great pattern, and I'm not sure what everyone else is talking about regarding the sizing and the construction of the back – the skirt fit fine, the back went together nicely, construction was logical, there was not an unreasonable amount of hand-stitching to do on the lining like in a lot of the Simplicity/McCalls patterns. I will agree with another seamstress's comment that the middle button is, in fact, really hard to button without a buddy. I'll probably be using a side zipper if I make it again.
The details were inspired by a number from Son Jung Wan's Spring 2013 Collection from New York Fashion Week. I didn't want anything that formal, but I fell in love with the asymmetrical hem exposing the underskirt and the counterbalanced sequin pattern. Plus, I needed to make something sequined for my 52 Weeks of Sewing project :-). The underskirt is slightly larger at the bottom (I cut it 8 inches wider) to prevent the two skirts from hanging exactly together and give a little bit of volume effect.
All in all, I'm super excited about this dress, and so excited to dance in it!
Material Notes
Cotton blend dress, stretch sateen underskirt
Difficulty
Intermediate
Categories