flutterby jammies in a treehouse for two
Added Jan 28, 2011
by littlewren
Rutledge, Pennsy...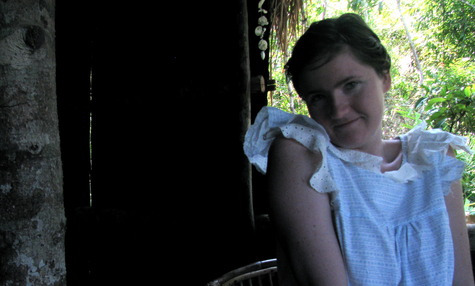 ShareThis
Description
After our time exploring the amazing temples and sights that Siem Reap had to offer we decided to reward our perseverance with a few days on beach! We found a place to stay in a little town on the beach, but unfortunately it's charm eluded us! It was full of drinking, tanning, preening westerners… and frankly that's the part of "beach" that appeals least to my husband and I. When we think beach we think quiet serenity… we think reading. We got an incredible tip about a little low key place on an island off the strip where we could rent a "tree house"… three walled room on stilts with a bed a table and two chairs. We said, "We'll take it!!!" As soon as we got there we looked at each other and smiled… this was a good fit for us! The owners both studied culinary arts (one a chef, the other a pastry chef) in Italy, so we ate GOOD! We spent 3 dreamy days on the beach here…
One day we hiked across the island to an empty white sand beach. Dreamy!
The PJ's were an idea I had a while ago. I had scraps of lovely eyelet left over from my "eyelet you steal a kiss" so I sewed them fluttery butterfly fashion to make the sleeves on this night shirt. The shorts are the lovely colette bloomers.
The bottoms on my husband are my first attempt at making boxers. They turned out pretty good according to him. My dream is to be able to make clothes for my family so we can be sustainable… I foresee a bolt of organic cotton being used very well in my home! I'm really excited to be able to make a basic necessity garment for my husband.
I hope you enjoy the whimsy in these clothes… and the sneak peeks of aqua ocean through the trees.
Material Notes
The blue pattern was sent by my mom as a possibility for quilt stuffs for my nephews… but I fell in love with the little moons and stars… and have no current good patterns for little boys!
The eyelet is bits of scraps bought from Thailand last year this time! : )
I combined some patterns … bits and pieces from japanese pattern books…
Difficulty
Intermediate
Categories