Fleur Delacour costume
Added Aug 2, 2011
by meggiemoo
Townsville, Aust...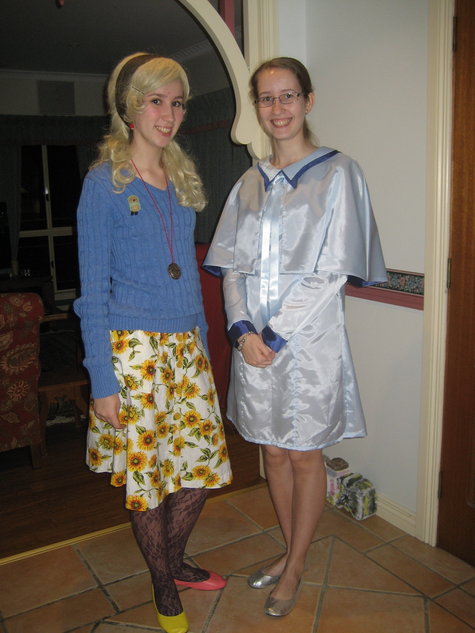 ShareThis
Description
This is a costume that I made for the midnight premiere of Harry Potter and the Deathly Hallows part 2, on the 13th July 2011. The dress is based on Simplicity 5924 (view 1), from 1965, which I found on Etsy, and the capelet is made from Simplicity/New Look 6916 (view C).
The dress and capelet are made from a shiny, light material which I suspect is lining fabric. It was extremely slippery, frays and crushes easily, and is slightly seethrough – but my reasoning was that it was just for a costume, and I wore a slip, so it was alright! And I have to say, it worked very well for what I wanted. The majority of the dress is a very light, almost ice blue, and the bottom layer of the collar, cuffs, and the underside of the capelet are dark blue, the same material as the light blue.
The dress has a double collar – not sure if that's the right way to describe it, but I made the top layer (light blue) and then the bottom layer slightly bigger (dark blue), and then attached them at the same time. The only trouble with this was that because I had so many layers the lining didn't want to stay inside the dress! I understitched the lining to the collar seam… and it still popped out… Stitched the lining/collar seam combo to the body of the dress, close to the seam line… a bit better, but still popping out… I ended up slipstitching the lining to the body of the dress at the shoulder, back and front seams to hold it inside!
Firsts:
First modification of a pattern – I 'self-drafted' the double collar of the dress, where self-drafting can be taken to mean 'had the original collar, kept the inside edge and played around with the outside edge until it looked right', as well as adding cuffs to the sleeves – 2 rectangles per sleeve, sewn together then sewn onto the end of the sleeves
First sleeves – they are HARD! I think I need more practice with a non-slippery fabric
First self-covered buttons – I will definitely be using these again, they are so much fun to make, and they look great!
First topstitching – not so great… also need to practice these
I'll definitely be making this pattern again, I have my eye on one of the short-sleeved, scallop-collared views next!
Please note: I'm shown in photographs with my sister, who went as Luna Lovegood, and my boyfriend, who went as Remus Lupin. I don't have any photos of the back, but it's not really anything exciting! I've also included one of my inspiration photos, of Clemence Poesy as Fleur Delacour in Harry Potter and the Goblet of Fire
Difficulty
Intermediate
Categories