Flamenco Blouse
Added Oct 26, 2013
Groningen, Nethe...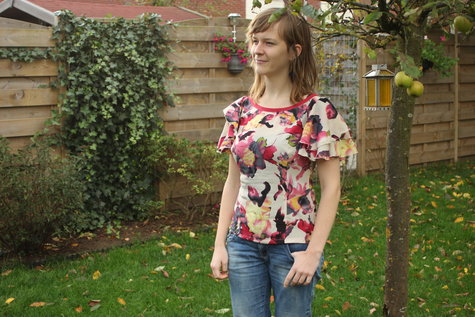 ShareThis
Description
I want to take a moment to congratulate myself on my first serged seam and first french seam.
Thank you for the moment.
I got a new serger from an old lady with 75 cones of thread so you can imagine my joy to start serging. But as I was making a blouse french seams are also very nice. I was constantly doubting where to do french seams and where to do serged ones. I wanted to sew as much french seams as I could but that wasn't possible. The front darts are split in the middle for example so I had to finish the raw edges somehow (this is horrible btw). Also the blouse has an invisible zipper and I wouldn't know in the world how to french seam this. But after this constant battle between french seam and serged seam the blouse came out quite nice. I don't know if I'll wear it much. Maybe it's a little too 'flamenco' for me. But it was definitely an instructive project.
Some tips for when you want to sew this:
- Don't add the seam allowance on the inner circle of the sleeves. Otherwise the sleeves won't fit into your bodice.
- The pattern is quite short so I would add a little extra length if you want to wear it over your jeans.
- They say you can make a rolled hem for the edge of your sleeves. Believe me, I've tried and tried but it was impossible (with the rolled hem foot at least, probably because the sleeve edge is curved). So eventually I serged the edges, this was a joy.
- The darts on the front are just not laying so nicely. Maybe it's because I did an FBA on them and it came out weird. But in the future I would make the front darts more pointy and curved so they won't have a weird 'nipple'.
- I didn't cut the back darts in the middle like the pattern calls for. This way I didn't have to finish the raw edges. The front darts are too big to not cut.
Hope this is helpful.
Material Notes
Silklike polyester something
Categories