Falling Leaves Dress
Added Nov 22, 2013
by caireen
Heidelberg, Germany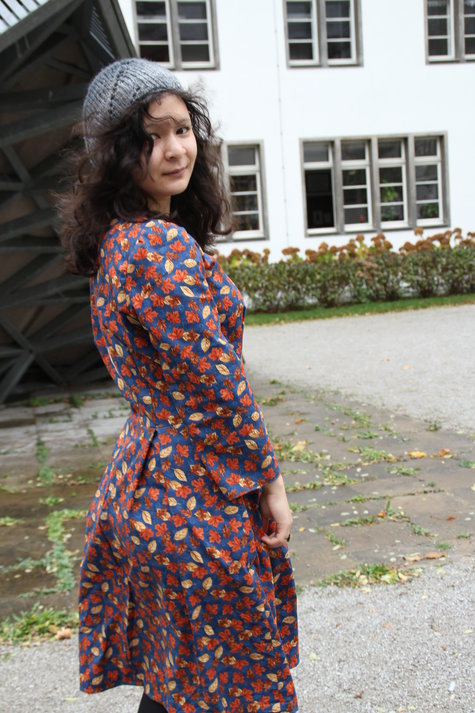 ShareThis
Description
This is the second fabric I bought in Budapest. Usually I take much longer to get around to a project, but a fabric with autumn leaves on them naturally had to be used up before the end of autumn. I knew pretty much from the start that I wanted to use this pattern, but I'm also a complete idiot and forgot that as a patchwork fabric, it did not, in fact, have enough yardage for the very wide skirt pattern. The longer I've been sewing, the more I've been feeling that improvisational talent is the skill you need to develop most to succeed. I cut out the top as intended, but dug up a basic skirt pattern from my stash. Then, with a little help from my mom (patience and accuracy isn't my strong suit), I made three box pleats in the front and two in the back to mimic my original plan.
As a sidenote, the sizing on this is whack! According to my measurements I'd have had to cut size 42, but since that just felt wrong (size 38, okay, makes sense, but 42? Come on!) I chose to make size 36. It fits perfectly – sometimes you just have to follow your instincts. After these initial difficulties, sewing up this dress was a breeze. I had to shorten the hemline by 4cm and cut off a couple of centimetres of the sleeves, but otherwise not even setting in the sleeves posed any problems. I'm very pleased with this dress. It's my first dress with long sleeves for colder temperatures! Basically I want to wear it all the time.
For more pictures and other projects, go to my blog!
Difficulty
Intermediate
Categories
For