Fake Chanel (knockoff) purse, handbag
Added Aug 7, 2008
by sweet4u21
Rochester, New Y...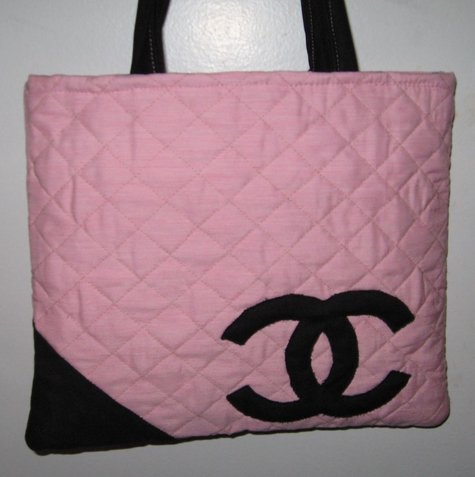 ShareThis
Description
I saw someone made this on some site I found a while ago and I completely forgot about it till I saw a pink fabric at the fabric store. I bought it thinking ha I could do that bag (who knew I could actually do it). I wasn't really expecting it to be done right.
Anyway I looked around and the original one is quiet expensive and I don't see myself paying over $500 for a bag, but I could spend under $5 for the whole thing :-)
I'm new at this and this is my very first bag. I had no pattern to show but I explained the materials as much as I could. I did this by looking at the bag and modified it the way I wanted.
Don't forget to visit MY TOTE SITE @ http://www.totes2pieces.multiply.com
Material Notes
12 × 13 pink fabric (or any color) Need 2 front and back
12 × 13 any color fabric for lining
12 × 13 batting
12 × 13 another shear fabric for marking the back for the
quilting part
2 Black triangle for the side / corner of bag
logo
Black strips for the handle
Difficulty
Novice
Categories