EPIC Han Solo Vest!!
Added Apr 29, 2011
Toronto, Canada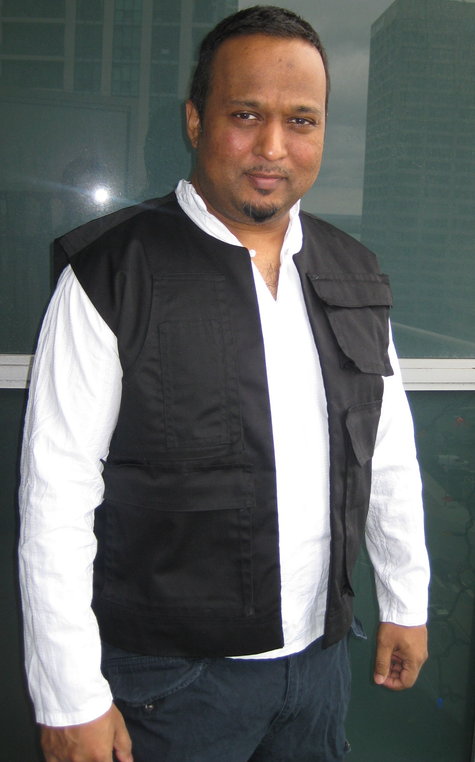 ShareThis
Description
Ideally I would have finished this in less than 12 parsecs…
My boyfriend has wanted me to make him a Han Solo vest, like the one Harrison Ford wore in Star Wars, since before I even bought my sewing machine.
In fact he tried bribing me by saying he would buy me a sewing machine.
When I did buy it, I began making it in secret, hoping to give it to him for Christmas, 2009. When you live with someone though, it's difficult to get enough alone time to do anything in secret, especially when your sewing table is your dining table.
I steadily worked away at it in bits and pieces when he wasn't home, cleaning up a half hour before he came home, pulling out another half finished project or pretending to have been sleeping or cleaning while he was out. It was an elaborate operation!
Towards the end I enlisted his friends and got them to take him to out of the way theaters and various other outings so I could get it done in time for his 40th Birthday.
When he opened it at midnight on his birthday all he could choke out was "Wh-wh-wheereee?" before the tears came and then I started crying and it was all a bit goopy for a while.
Once he tried it on, I realised his shoulders are a bit more sloped than I figured. You can see in the last picture how they stick up.
I had expected to make some modifications after I finally had it on him, and luckily I had some hand stitching in the lining by the shoulders. I ripped it open and attached one inch strips at the shoulders to ease the armholes and also tapered the shoulders a bit.
Also, because I started making it so long ago, my sewing skills improved greatly over time. My measurements were a bit off in 2009 so I also added small strips to the side seams between the back and from to ease the garment a bit.
My "special modifications" worked and it's as close to perfect as I could have imagined.
It's fully lined with black broadcloth on the inside. This was one of those garments that I wanted to make beautiful, inside and out, so there are no visible seams in the lining. I machine stitched it all on the wrong side, leaving the bottom open, turned it right side out and then attached the bottom edge with hand stitching – an invisible slip stitch I believe. I can't even adequately explain what I did to get it right.
In the end, his reaction was worth it. It's my first ever men's garment, first ever vest/outerwear item and best ever present. I simply cannot top this.
Unless I build him a Millenium Falcon for his 50th….hmmm…
Material Notes
Medium weight twill, cotton broadcloth
Difficulty
Intermediate
Categories