Eneen
Added Mar 29, 2008
by amarie
Chicago, Illinoi...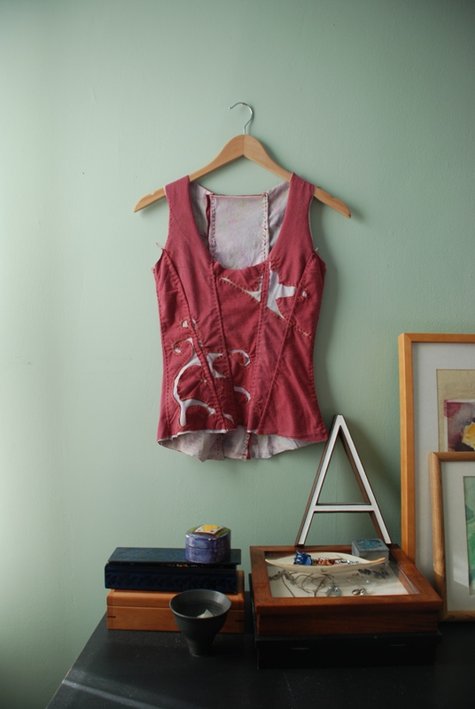 ShareThis
Description
Years ago, new to a city and knowing very few I would spend hours at Borders browsing magazines and I rarely buy Vogue thinking it too fancy for me but I read the story of Project Alabama and the designer Natalie Chanin and her philosophy about clothes and fashion and the story of her return to her home in Florence, Alabama and her being inspired by the long tradition of quilting in that region. As someone who is always think about going home, this story stuck to me. I think about why I am here participating in this forum. Is it just about clothes? I don't particularly think myself fashionable. No one would confuse me for a trendsetter. I could just as easily buy my clothes instead of making them, but I think sewing makes me feel connected somehow to my memories of home. I remember how my Mom and my aunt used to make us clothes. Its silly to think that a tank top can do that, but it did here for me. I admire Natalie for being true to herself and in doing so she honors long-standing quilting tradition from which her own passion for clothing and textiles came from. I clipped that article, kept it for years and years in my inspiration file.
A few weeks ago, I saw the Alabama Stitch Book on the same Borders bookstore and even from afar, I could tell that the photos from the cover were of clothes made by in the mind and the hand of these Alabama women whom I've come to admire. In 2006 Project Alabama ceased operations in Alabama to move their production overseas, but Natalie kept her resolve and her dedication to the region and stayed behind and set anew and established Alabama Chanin. Here is a corset top that I made from the pattern and the same reverse applique that made Natalie Chanin and the women of Alabama a worldwide success.
Everything is hand-stitched and while that sounds truly intimidating, I tell you that the experience making this top was totally the opposite. I would come home and work on a panel an hour or so at night while listening to NPR or talking to my friends and before I knew it I was done. This is a gift for Eneen, my sister. I love too that it's made from my our recycled shirts and the stencil design is from my older sister's favorite asian decorative plate of cranes and stylized clouds. I hope my sister likes it. Mirela, this is the corset top that I told you about in the forum. The flat-felled seams gives the illusion of boning. It is unfortunate that I can't provide you with a picture with the dress on. Among Alamaba fans, this top is called "Wonder Alabama" for it's form-flattering fit.
Material Notes
my brother's recycled t-shirts *
carpet thread * diy stencil
Difficulty
Novice
Categories
Credits
Alabama Stitch Book
Apr 21, 2008, 10.04 PMby amarie

Mar 31, 2008, 12.13 PMby mirela

Mar 30, 2008, 12.05 PMby olar

Mar 29, 2008, 03.27 PMby jj1