Emolga Gijinka Cosplay
Added Mar 19, 2013
Everett, Washing...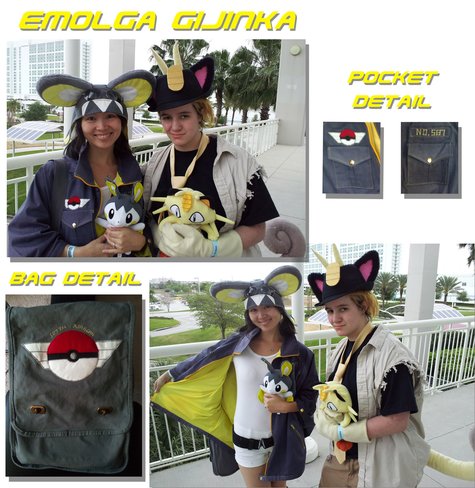 ShareThis
Description
What do I even say about this? This costume was literally thrown together in a matter of three or four days. I knew I'd be going to Megacon with my buddy Kazz in his Meowth cosplay (Dig the awesome Meowth cosplay; he couldn't take two steps without someone screaming, "MEOWTH! PICTURE!") months before we went, and I'd decided on Emolga a full month before debut, but I couldn't figure out how I wanted to interpret Emolga into clothing. I searched for the right jacket pattern forever, looking for a balance of accuracy and the pilot motif I'd chosen; when I put up my concept sketch, I'd decided to just do a sleeveless bomber jacket, but literally, the week before I started sewing (and after I'd already begun buying my fabric), this was posted here.
It required a little alteration. I didn't want the gathering, since I wanted that full, flying squirrel silhouette, and I swapped out the hood for a collar, the welt pockets for zippered, the d-ring toggle sleeves and drawstring bottom for snaps, and added a lining and some snap-close breast pockets. See that zipper? I really hate it. I had originally bought a brass zipper set on slate twill that perfectly matched the fabric, but it was too short, which I discovered night before the con. So I ran to Joann to replace it, only to find they didn't carry that zipper in any longer lengths. The jacket itself is twill, and the lining is a very lightweight knit that is super breezy and comfortable, but fussy like a toddler, and I hateitsomuchandIneverwanttoworkwithitagainashjkdsfkhfsl. Also, I've never had to add my own seam allowance to a pattern, and it was more of a pain than you'd think. Also, also? I think the sizing's off, because based on the size charts, I needed a medium (I usually wear a 0 or 2), and I was swimming in that thing.
The ears turned out too big, but since I was super-pressed for time, I didn't bother redoing them. They're built into the aviator cap, which I built off a simple coif patten, and I'm very irritated that I cut the flap out upside down.
It has a tail, too, made out of minky fur, like the ears, but I never got any pictures of it. Sadface.
I'm thinking about selling the costume (jacket, hat/ears, bag and tail), since I don't con often, and I spent more on this than I really should have. Anyone interested? mie(at)spindash.net
Material Notes
Twill, jersey, cotton, polyester, minky fur, upholstery foam, coat hanger
Difficulty
Intermediate
Categories