Emerald and Roses Pastille Dress
Added Apr 1, 2012
by orchardcity
Victoria, Canada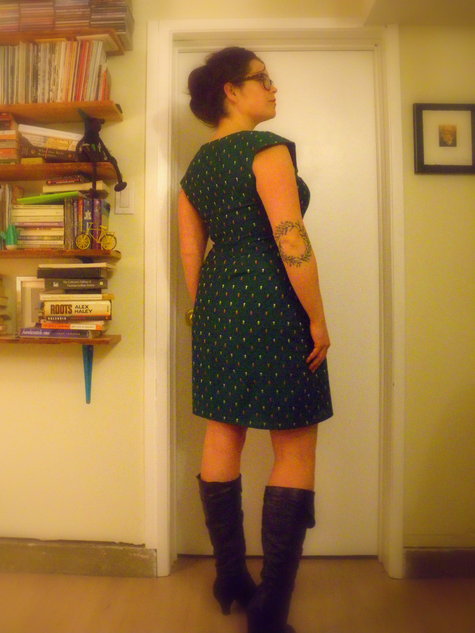 ShareThis
Description
Fabric: Poly-blend (?) thin fabric, found in a bag of quilting scraps from a thrift store. It was only 36" wide! Luckily it was 9' long… The white and pink roses each face a different direction (one up, one down), so I had to cut the main panels with that in mind. I chose to have the white roses facing up. The design is actually woven into the fabric, not printed. Neat. Unfortunately, it wrinkles like mad.
Pattern: Colette Pastille, from the Colette Sewing Handbook
Year: 2011
Size: 10 bust, out to 14 for waist and hip (though could have gone smaller at hip, because I ended up taking it in anyway)
Notions: Double fold bias tape, thread, fusible interfacing
Time to Complete: 12 Hours for this dress, but easily 3x that to adjust the pattern!
First worn: Not outside the house yet!
Wear again? Yes! I LOVE this dress.
Total Price: ~$1 (all fabric and notions were thrifted for peanuts, and pattern was a gift)
I threw my Pastille muslin across the room in frustration more than once, and at one point completely abandoned it for 4 weeks, because I simply could not get it to fit correctly. The shoulders were bizarre and the back was one big pillow of extra fabric. Eventually I picked it up again, after doing the body-tracing exercise from Fit for Real People and learning that not only am I short-waisted, but I also have very sloping shoulders (and big biceps to boot!).
Reading online that others had to do giant swayback adjustments on this pattern gave me courage to press on.
In the end, I did a 1/2" sloping shoulder adjustment, shortened the bodice by 1", and carved out a good 3/4" from around the front armscye. Then things got a little weird, as my swayback adjustment grew and grew until finally I'd effectively removed the rear waist dart. The resulting pattern piece looks pretty different from the original, but the fit is fantastic!
I also took out 1/2" from the top CB of the skirt, tapering to nothing at the side seams, and then expanded the darts by 1/8" on each side, as an additional swayback adjustment. Finally, I took in the sides of the skirt by 5/8", tapering to initial waist size.
When sewing this dress, I did mostly mock French and flat-felled seam finishes, and bound the waist with bias tape to reduce bulk. I left the side seams until last, so that I could do a final tailoring of the fit.
I left out the knife pleats at the bottom of the skirt and the bow too, preferring the simplicity of the cut as is. I also omitted the zipper! My body shape is very conducive to pulling on dresses over my head.
Overall, I'm so completely thrilled with this dress: I had no idea it would turn out this great! I mainly persevered as a learning experience, which it certainly was… Having a beautiful new dress is an excellent bonus.
Material Notes
Yet another mysterious fabric from a secondhand shop…
Difficulty
Intermediate
Related Techniques
Categories
Credits
The Colette Sewing Handbook