Elsa #1 (pattern size 36)
Added May 10, 2010
Several Places, ...

Step 1 Elsa#1 Pattern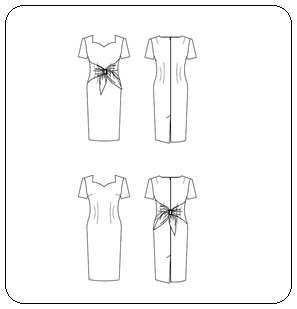 Materials
fabric: we used a light weight wool/blend aprox. 170cm length x 150cm wide
invisible zipper 60cm length
buckle which should be covered (→ tutorial)
interface to iron on the trimming
Cutting list
Front part 1 x on fold
Back part 2 x
Sleeves 2 x
Bow 4 x
Front trimming 1 x on fold
Back trimming 2 x on fold
Cutting out
Put patterns on fabric. Grain line should be correct. Mark seam allowances:
4 cm for hem
1,5 cm for all edges and stitches
Note: The pattern pieces are including the seam allowances!
Cut units and transfer all pattern markings on fabric.
Try on
Stitch by hand, right sides together:
Front piece darts, back piece darts, back piece to front piece at sides.
Stitch back middle seam and sew the zipper by hand with a running stitch about 1,5cm lenght. Now try on and make sure the correct fit. May be you have to modify the darts width or their position, the side seams or the back seam. Take apart.
Put together step by step:
May 11, 2010, 02.10 PMby nehmah
Patterns for this Project