Ellen
Added Jun 1, 2009
By burdastyle
New York, New Yo...

Step 9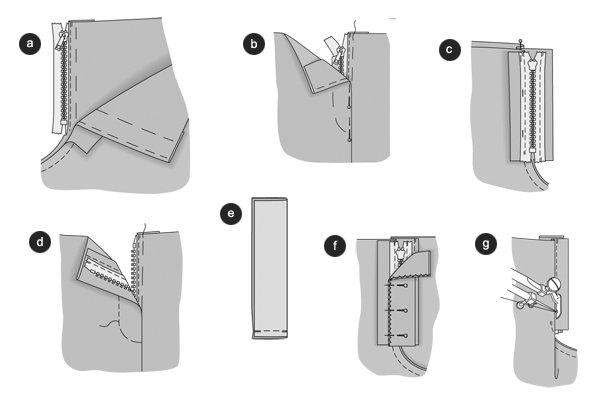 Pin the left slit edge close to the teeth of the zip onto the zip band and stitch tightly with the one-sided
zipper foot. (a)
Pin slit middle on middle. (b)
Pin the border of the right pant piece to the second zip band, not taking in the pants. Stitch zipper to the
border. © Coming from the right pant side to the right closure line at the marked stitching line from
above, stitch until you reach the beginning of the rounded edge, stitching the border. (d)
Fold the underlap (a) lengthwise, right side inside. Stitch bottom edges onto each other. (e) Trim seam
allowances. Turn underlap. Pin and iron edges. Hold together and de-baste the open long edges. Pin the
underlap from the inside to the seam allowance of the left slit edge, so that the de-basted line lies on the
zipper band and the wrap line lies 3 cm (1 1/5 inches) from the front middle. (f)
Stitch the border of the left slit edge close to the stitching line of the underlap. (g) Close zip. Pin the slit
closed again, middle on middle, and stitch the remaining zip stitching line, taking in the underlap. Pull
thread inside and tie ends.
Oct 17, 2009, 10.56 PMby kaalen
Patterns for this Project
Produced by BurdaStyle