Ellen
Added Jun 1, 2009
By burdastyle
New York, New Yo...

Step 8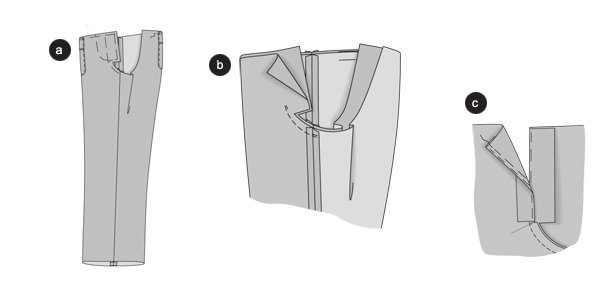 Crease, Back Pant Piece
Place pant pieces onto the ironing boards so that the inner leg seam meets the side seam, and the front
crease lies evenly. Iron crease into the back pant piece.
Middle Seam, Front
De-baste the seam allowances of the front borders, the front middle seam and continuously of the back
middle seam.
Turn one pant leg, wrong side outside. Push pant legs into each other, right sides of fabric and inner pant
leg seams meet. Pin the front middle seam from the slit marking until the inner pant seam. Stitch. Secure
seam beginning and end (a). Pull pant legs apart.
Slit for Zip
Ladies' pants close from right to left. Pin over the border at the right front pant edge to the inside at the
marked front middle. At the left slit edge, pin the border to the inside, 5 mm (1/5 inches) next to the front middle, to
prevent the zip from showing. Make sure to cut the seam allowance at the end of the slit (arrow) until you
are about 5 mm (1/5 inches) from the seam. Iron edges. (b)
0 Comments on Step 8
Patterns for this Project
Produced by BurdaStyle