Ellen
Added Jun 1, 2009
By burdastyle
New York, New Yo...

Step 7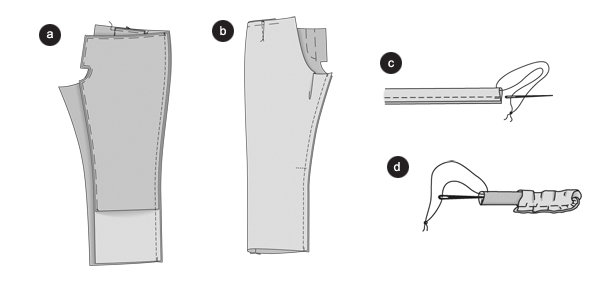 Side Seams
Place front pant pieces right sides facing onto the back pant pieces, pin side seams. Stitch. (a) Secure seam beginning and end. Fold apart and iron seam allowances, de-baste. Fold over the slit allowances and iron to the inside.
Inner Leg Seams
Fold the pant pieces lengthwise, right side of fabric inside. Pin inner pant legs. Stitch. (b) Fold apart and
iron seam allowances. Turn pant legs, right side outside.
Loops
Fold fabric strips in half lengthwise, right side inside. Stitch 2.5 cm (1 inch) from the wrap line. To turn, cut the thread not too short on one end. Thread the thread into a darning needle and tie tightly. Pull needle with the eye facing forward through the fabric tunnel (c and d). Iron strip, stitch neatly and cut into 4 loops of equal length.
Place one loop each above the darts in the back and the middle of the front flap, the fourth loop should be
pinned to the left front pant piece at the same distance from the front middle.
0 Comments on Step 7
Patterns for this Project
Produced by BurdaStyle