Ellen
Added Jun 1, 2009
By burdastyle
New York, New Yo...

Step 6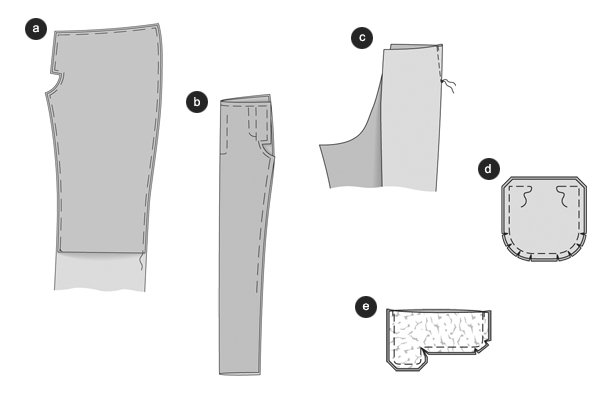 Lining / front pant pieces
Position the lining on the wrong side of the front pant pieces. Baste all edges (a) Continue working as if it was only one layer.
Crease / front pant pieces
Fold the front pant pieces along the CREASE line, wrong sides facing. Press the crease (b)
Darts
Fold back Pant Pieces so that the dart lines meet, right sides facing. Pin dart lines onto each other. Stitch, starting at the upper edge, secure seam beginning with reverse stitches. Tie thread at the tip of the dart. © Iron the dart to the back middle.
Pockets
Stitch the pocket pieces of fabric and lining together, allow an opening of 2" (5 cm) at the top edge. Trim allowances. Snip in at the curves, cut the corners at a slant (d). Turn the pockets. Press. Topstitch the top edges narrowly, also stitching the opening. Pin the pockets, meeting the seam line, onto the front pant pieces and the right back pant piece. Stitch 1/4" (0.5 cm) wide along the edge.
Flaps
Pin flap pieces with interfacing to the flap pieces without interfacing, right sides facing. Stitch, leaving the base edge open. Trim seam allowances, cut at the rounded edges, cut deep towards the stitching line at the edges. (e) Turn flaps. Pin edges, iron and stitch neatly. Sew in buttonhole, but do not cut yet. Pin flaps in between the vertical lines of the upper edge of the front pant pieces, flaps pointing up. Stitch. Cut seam allowances of the base seam to 5 mm (1/5 inches) width. Iron flaps down, stitch neatly along the seam base line. Pin the third flap between the vertical lines on the seam allowance of the right back pant piece.
0 Comments on Step 6
Patterns for this Project
Produced by BurdaStyle