Ellen
Added Jun 1, 2009
By burdastyle
New York, New Yo...

Step 10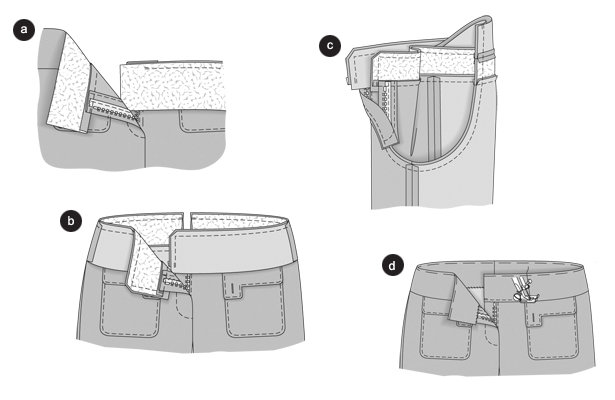 Stitching the Waistband
Place the front waistband pieces with interfacing onto the back waistband pieces with interfacing, stitch
side seams. Fold apart and iron seam allowances. Place waistband pieces onto the corresponding pant
pieces, right sides facing, pin the left front waistband end to the underlap.Stitch (a). Iron the seam
allowances into the waistband pieces.
Double Waistband, Middle Seam of the Back
Stitch the side seams of the waistband pieces that are not reinforced. Fold apart and iron seam allowance.
Place the waistband pieces that are not reinforced onto the waistband pieces that are reinforced right sides inside. Pin upped and front edges onto another. Stitch, along the right waistband end of the front middle piece. (b) Trim seam allowances, cut in at the rounded edges, cut diagonally at the edges. Place the waistband pieces that are not reinforced on top again at the middle back, fold apart the seam allowances and iron them. Push the pant legs into each other again, right sides of fabric facing. Pin the middle seam in the back; pin the back waistband lines onto each other continuously, seams and seam lines meet. Stitch. © Secure the seam endings.
Tip:
Because the middle seam will have to hold up to a lot of wear, stitch the seam twice or stitch it using a
stretch or triple stitch (See the instructions that came with your sewing machine). Fold apart and Iron the
seam allowances from the top to the crotch. Turn the waistband that is not reinforced inside. Pin edges. Pin the inner waistband folded onto the base seam, stitch by hand. Coming from the right side of the pant, stitch around the waist neatly. (d) Sow the buttonhole into the edge of the right front waistband.
Attaching loops to the waistband
Stitch the waistband, allowing 7mm (1/4 inch).Place the loops to the top and stitch them to the upper edge of the waistband, folded. Sow the knee cuff as in B, text 14, stitching in addition, allowing 7 mm (1/4 inch) and folding to top.
Buttons
Sew buttons onto the left front waistband and the back knee cuff edges, according to the buttonholes. Sew one button onto each one of the lower buttonhole ends of the flaps, taking in the pant pieces.
Seam
Trim seam allowances, pin to the middle, iron and sew loosely by hand. Iron the crease once more at the
lower pant edges.
0 Comments on Step 10
Patterns for this Project
Produced by BurdaStyle