Earning my Mother's Day Present!
Added Mar 13, 2013
Warwickshire, Un...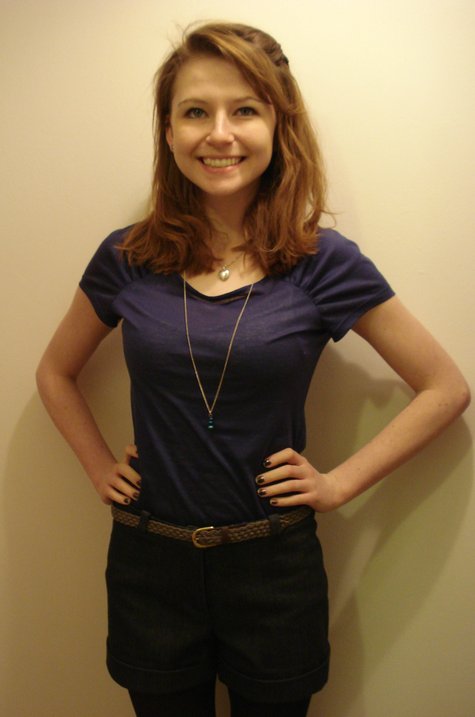 ShareThis
Description
Daughter No1 is at University, and has realised a diet of booze and pasta does bad things to a girl's clothing. It invites calories into your cupboard at night, and they sew up all your clothes so they don't fit that well in the morning. So this weekend when she was home, I ran up a few replacement items for her. I made two t-shirts and a pair of shorts. The tees were one Sewaholic Renfrew with scooped neck and short sleeves and the other #126 from BurdaStyle 02/2013. The shorts were from Burda pattern 7550.
I managed to use all stash fabrics for these projects, which was great! The Renfrew used the left overs of a really nice black, grey & teal print I'd had from Truro Fabrics a few years ago now, and the BurdaStyle tee was made with some navy organic cotton jersey from Fred Winter's in Stratford on Avon. I had a small bit of stretch denim for the shorts, but not quite enough for the inner waistband, so that was cut from some stretch cotton shirting.
I used the overlocker almost exclusively for the tees, and twin needled the hems and neck edges where needed. As usual the Renfrew went together with absolutely no hassle at all. The Burdastyle tee I hadn't made before, but was on my list for my monthly Burda Challenge, so I'm glad it got made! It is quick to make, and the gathers on the raglan sleeves look fab! I will make the pattern shorter if I need to make another though, it's very long. And I think it's right in a thin jersey knit, I wouldn't make it in anything too much bulkier. I have some Liberty cotton jersey to make another for daughter No2.
All in all I think Daughter No1 was happy to have some new clothes, and I got lots of hugs and a loverly Mother's Day present, so I can't complain!
Material Notes
Cotton jersey, stretch denim
Difficulty
Intermediate
Categories